2 Buck TV is an inexpensive alternative to cable TV programming.
Sponsored Links
About 2 Buck TV
2 Buck TV provides a catalog of various tv shows, movies, and radio stations.
The product website is 2bucktv.com, which was registered in October 2015. The screen capture below shows the official website in February 2016.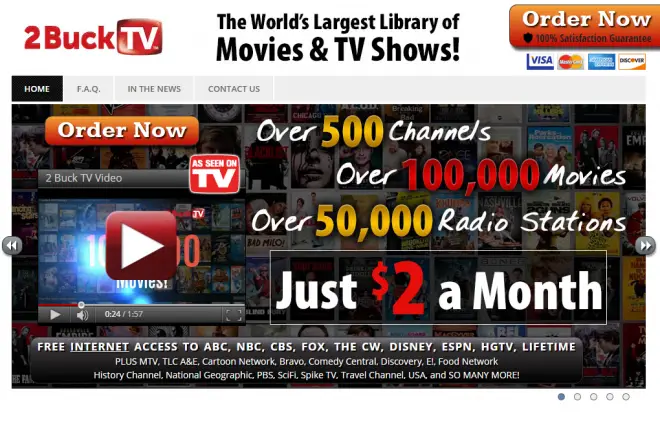 What They Claim
Over 500 channels, 100,000 movies, and 50,000 radio stations
Only $2 a month
Offers all popular channels
Works with all existing subscriptions
Over 3 million users
No hidden fees or contracts
Works without wires, boxes, and dishes
2 Buck TV Cost
2 Buck TV Single User Plan – Starting at $24, for either 1 or 2 year plans
Sponsored Links
Family Plan – Starting at $60, 5 users, for either 1 or 2 year plans
Reviews
Products suggesting that consumers can say goodbye to cable and satellite bills are on the rise, and 2 Buck TV suggests that you can get over 500 TV channels and 100,000 movies for the low price of $2 a month. But how does it work?
2 Buck TV is presented by Telebrands, the As Seen on TV giant which promotes many of the most popular products in this genre. In fact, Telebrands offered a very similar item a few years ago known as Rabbit TV, and later Rabbit TV Plus. In fact, it would appear that 2 Buck TV is virtually the same as Rabbit TV Plus, at least in how it functions.
Both products work via software that connects your TV to the internet. You are then provided a menu which sorts many popular internet feeds into an organized display.
Although the website shows such cable giants as Comedy Central, ESPN, etc., you'll notice the fine print which states that it "works with all of your subscriptions" – meaning you won't really get anything free that's not already free. You won't suddenly have access to cable channels or websites which aren't already offered at no charge.
Although you can receive "over 500 channels" keep in mind that many of these are internet television stations, including many that are not in English, and some which are simply feeds from the official website.
There is no option to simply pay $2. You must pay for a full year, meaning $2 x 12 months, or $24. After you purchase, there is an activation code that you'll receive to allow you to access the service.
In short, 2 Buck TV is merely a menu that doesn't allow access to any content that you can't already access without it. If a new menu is worth $2, you may want to give this a shot.
Your 2 Buck TV Reviews
Let us know what you think of 2 Buck TV by leaving a comment below and a star rating above.