360 Spinner Vac is a battery powered vacuum that can move in any direction without restriction. Does it work as advertised? Here is our 360 Spinner Vac review.
Sponsored Links
About 360 Spinner Vac
360 Spinner Vac is a cordless vacuum cleaner that features 360 degree maneuverability and a jointed handle for cleaning under furniture. The official website is 360spinnervac.com, with a registration date of June 2017. The screen capture below was taken of the product website in August 2017.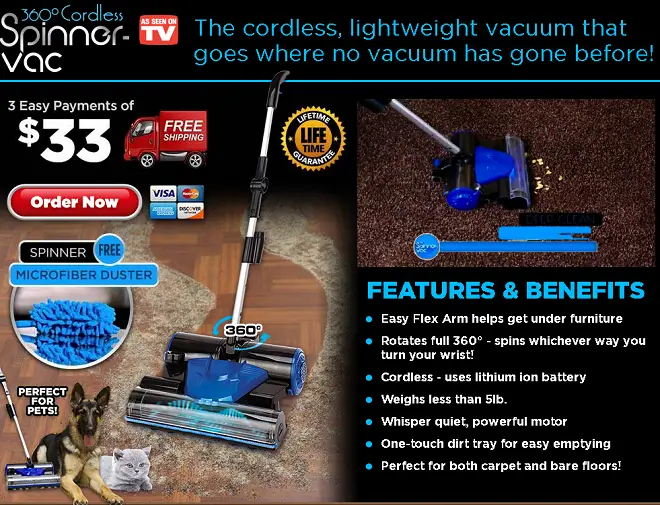 Claims & Features
Vacuum underneath furniture with the Easy Flex Arm
Pivots with the turn of your wrist (360° swivel)
Runs on a lithium ion battery (no cords)
Lightweight (under 5 lbs.)
Quiet motor
Dirt tray is simple to empty
Can be used on wood, tile, carpet, or concrete
Cost
360 Spinner Vac costs $99. Shipping is free. There is the option to make one full payment, or three monthly payments of $33. It comes with a lithium ion battery and a Spinner Microfiber Duster. At the time of this writing, 360 Spinner Vac is not available in stores.
360 Spinner Vac Review
The name 360 Spinner Vac probably sounds familiar because so many products in recent years have used the terms "360" and "spinner." With this cordless vac we have a lightweight rechargeable that is easy to maneuver in tight spaces.
Sponsored Links
There is a spinning brush that is powered by a lithium-ion battery, not unlike many other stick vacs on the market. It sports a wide head that puts it in the same league as full-sized vacuums. The "360" aspect of 360 Spinner Vac is in its handle that allows you to rotate in any direction that you twist or turn your hand. Perhaps the most unique feature that this product offers is the flex-arm, which is essentially an elbow in the middle of the handle. This allows you to use the vac parallel to the floor without having to bend over. Activating this flex arm is as simple as pressing a button on the handle and then lowering the vac toward the floor. It's a rather ingenious and simple addition.
Another addition to the standard vac design is that of a brush that is easy to remove. This means that you can pull it out, wipe off pet hair and debris, and re-insert it. I've spent my fair share of time digging pet hair out of vacs like this, so the makers really came up with an effective alternative to the traditional design.
How long the lithium-ion battery lasts will depend in part on your flooring. Carpet floors will require a bit more energy to keep the brush rotating, and thus won't last as long as hard floors. I think the battery should provide enough juice to power 360 Spinner Vac through most clean up jobs.
Overall, I like 360 Spinner Vac. It offers several innovative features and a price that is competitive with many popular stick vacs on the market.
360 Spinner Vac breaks the mold of the typical "As Seen on TV" product. First, it's quite rare to see an item in this category cost $100. Next, while most As Seen on TV products seem to copy existing items, this one is actually quite unique and sports several features you just don't find on competing products. I'll be very interested to see if this product can become a mainstay in a rather crowded field of cordless vacs.
Alternatives
It can be daunting to sift through the numerous cordless vacs on the market. I would start with something like the Prolux Cordless Stick Vac, which costs about the same ($120) and sports a high consumer rating. This rechargeable stick vac by Deik is under $100 and currently listed as an Amazon Best Seller.
Television Commercial
Your 360 Spinner Vac Reviews
What are your thoughts about 360 Spinner Vac? Drop a comment below and a star rating above to let us know what you think about it.