Ab Doer 360 is an exercise chair designed to burn calories while working abdominal muscles. Does it work? Read our Ab Doer 360 review.
Sponsored Links
About Ab Doer 360
Ab Doer 360 is the most recent offering in the "Ab Doer" line of exercise equipment. The product website is getabdoer360.com, which was first registered in July 2016. The screen capture below shows the official product website in February 2017.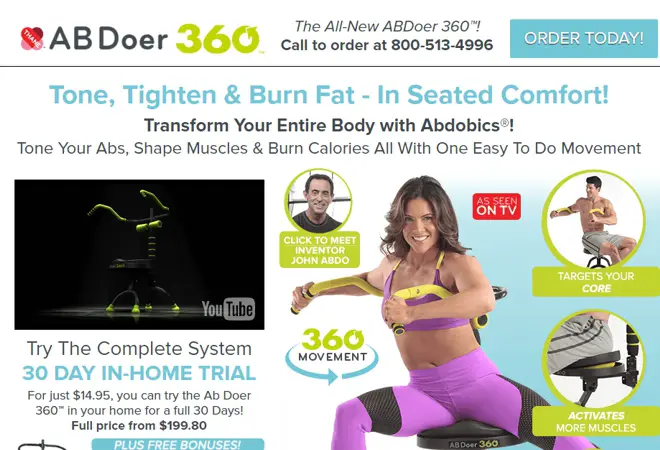 Claims & Features
Over 3 million Ab Doers sold (all models)
Padded seat
360-degree movement
Targets core
Massage while exercising
Cost
Ab Doer 360 costs $214.75 plus $19.99 processing and handling. This can be made as a single $234.74 payment, or as part of a $14.95 30-day trial offer which breaks the cost into payments.
Ab Doer 360 Review
Ab Doer 360 is the latest in a line of "Ab Doer" products that have been around for about 20 years. It was developed and promoted by fitness guru John Abdo.
Virtually every model of Ab Doer has had a legion of fans, as well as a steady stream of critics. Perhaps the most popular version (prior to the release of the Ab Doer 360) has been the Ab Doer Twist.
All models, including the 360, feature a seat and two arm bars. Workouts are performed from a seated position as you twist, rock, and rotate your core. A new feature with the Ab Doer 360 is the "Fluidity seat." This floating padded seat wobbles when you sit on it, which forces you to continually correct your position by using core muscles. There is also a greater range of twisting motion that can be achieved with this newest model. Two massage pads have also been added, which roll up and down the center of your back as you move back and forth on the machine.
Sponsored Links
Most Ab Doer users will tell you that the workouts are enjoyable and can be performed even while watching television. The device doesn't have a large footprint within your home, and can be folded away for easy storage.
There have been a number of infomercials extolling the health benefits of Ab Doer 360, but you should keep in mind that the dramatic results shown in the infomercials can only be achieved by combining exercise with a sensible eating plan.
Any piece of exercise equipment is only as valuable as the time you put into it. Those who find Ab Doer machines to be enjoyable feel that their investment is justified because it helps keep them moving, while other forms of exercise have failed to spark their interest. Those with certain back problems may find value in the Ab Doer 360 due to its constant back support. In many cases this support will be superior to simply doing crunches and situps, which put stress on that region. Of course the various twisting and bending exercises could also be more problematic to those with back issues, and this will depend on each user's specific constraints.
Keep in mind that you can't spot-target weight loss. No matter how much you sculpt your abs, the layer of fat on top of that area will only come off as a result of overall body fat loss, and not from working the muscles underneath.
I've also seen a number of older Ab Doer machines at second-hand stores and garage sales, so there have certainly been people for whom this type of device did not work. That can be said about even the most popular home gym devices, however.
In the end, Ab Doer 360 will probably earn about the same rating as its predecessors, which tend to hover around the 3.5 star range. If you think you'll use it over the long haul, you'll probably enjoy it. If you're on the fence, or if you've turned past exercise machines into coat hangers, you may want to consider less expensive options, or look for an older model that isn't as costly.
Alternatives
If you're looking for an inexpensive device to work your abs, you may want to consider something like Speed Abs, a $15 piece of equipment with one purpose and a high consumer rating.
For a higher-end home exercise device that targets abs, the Ab Coaster Max may be something to consider in the same price range as Ab Doer 360.
For a seated workout, you may want something like this Resistance Chair Exercise System by VQ ActionCare.
Television Commercial
Your Ab Doer 360 Reviews
Tell us what you think about Ab Doer 360 by leaving a comment below and a star rating above.