Accucut is a pill splitting system that is simple, quick, accurate, and safe. Does it really work? Here is my Accucut review.
Sponsored Links
About Accucut
Accucut is a pill cutter that features a self-retracting crescent blade and a two-sided cutting disc that can precisely split pills. The official product website is buyaccucut.com, which was registered in July 2017. The screenshot below shows how the product website looked in October 2017.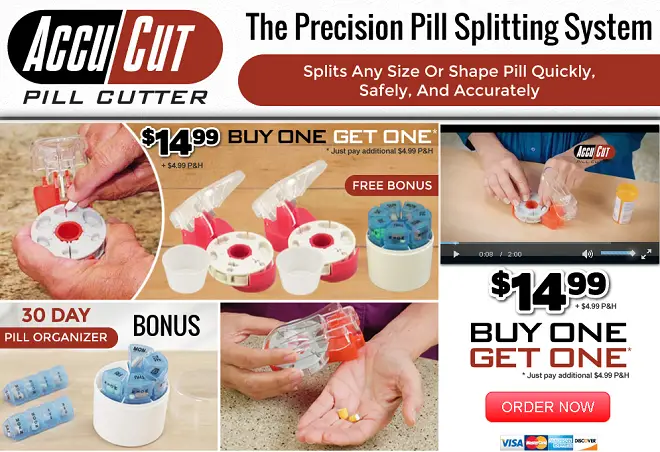 Claims & Features
Accurately and easily cut pills to any size or shape
Just insert pill into proper slot and press down
Compatible with 18 different sizes and shapes of pills
Does not crush pills (sliced by curved blade)
Fingers and hands remain safe (crescent blade automatically retracts)
Includes a built-in pill catcher
Pills will not crumble (no mess)
Cost
There is a mandatory double offer when purchasing Accucut. It costs $14.99 + $4.99 P&H + $4.99 double offer for a total of $24.97. The two pill cutters come with a 30 day pill organizer, two 2-sided cutting discs, and two cups. At the time of this writing, Accucut is not available in stores.
Sponsored Links
Accucut Review
If you have ever had the pleasure of needing to cut pills, you may be interested in this new As Seen on TV gadget called AccuCut. This is not just an ordinary pill cutter, but a device with 18 preset slots to accommodate the shape of many common pills. This, we are told, leads to a more secure fit and accurate cut.
To use AccuCut, you simply find the closest slot that matches the pill you want to cut, and place it in the chamber. You'll then close the lid, which contains a curved razor blade that helps with a more precise cut. After the pill is cut in half, you turn the unit on its side, and both halves will fall out easily.
If you happen to be cutting a pill that fits into one of the slots and the blade cuts it precisely, you may say that AccuCut is the best pill cutter ever. If, however, you can't find a matching slot or you find that it crushes rather than cuts, you'll probably give it one star. It is that contrast in consumer experiences that will almost certainly relegate AccuCut to 3-star status. With so many different possible sizes, shapes, and consistencies of pills, there are too many variables for this to please all consumers.
AccuCut is nearly identical to this pill cutter on Amazon, which costs $12 and has a lukewarm 3.2 star rating. You may want to peruse those comments to see the wide range in consumer satisfaction with that similar item. If you're just looking for an inexpensive highly-rated pill cutter, this $5 best seller may be worth a close look.
Based on its website registration date and limited advertising, it appears to me that AccuCut is a test marketed item, which means it could be slow to ship – if at all. You may want to exercise patience in the delivery phase if you decide to order. I'm also not a fan of mandatory double offers, but if you've "gotta have it," you may be stuck with an extra that you may not need.
You may also be interested in my video review below of Pill Pro, a pill organizer.
Your Accucut Reviews
Have you used Accucut or something like it? Leave a comment below and a star rating above to let us know your thoughts.