Active Bright is a natural teeth whitening system made from coconut charcoal powder. Does it work as advertised? Here is our Active Bright review.
Sponsored Links
About Active Bright
Active Bright is an organic formula that can be applied to a toothbrush for fresh, minty breath and whiter teeth. The official website is getactivebright.com, with a registration date of April 2017. The screen capture below was taken of the product website in June 2017.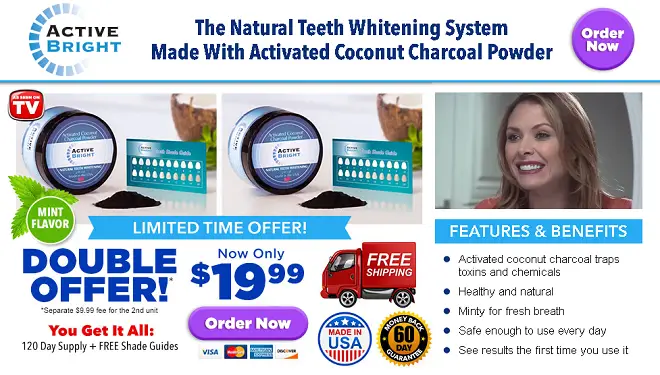 Claims & Features
Main ingredient is activated coconut charcoal powder which traps chemicals and toxins
Natural and healthy
Produces fresh, minty breath
Can be used daily
Immediate results
Cost
When ordering Active Bright, there is a mandatory double offer which costs $19.99 + $9.99 P&H for a total of $29.98. This is the equivalent to a 120 day supply, and it comes with a shade guide. At the time of this writing, Active Bright is not available in stores.
Active Bright Review
Active Bright is a teeth whitening product made from activated coconut charcoal powder. There have been a number of teeth whitening devices in the As Seen on TV genre in recent years, but this is the first charcoal-based product I've seen. The practice of whitening teeth with charcoal powder has been around for many years, but a viral video in recent years, along with celebrity endorsements of the practice, has brought this DIY method to the mainstream.
Sponsored Links
To use Active Bright, you simply apply a small amount to your toothbrush and brush it onto your teeth like normal. Keep in mind that it isn't designed to remove plaque, so you'll still need to brush with regular toothpaste. Despite its black color, Active Bright has a minty taste. Although the commercial shows it being used in a straightforward manner, I've found these types of products to be quite messy. I prefer using a dedicated toothbrush for the charcoal powder because it will turn the bristles black.
Results from using this type of product can be quite dramatic, with the overwhelming majority of people who use it reporting positive results after just one use.
If you do decide to order it, there are a few things you can do to make the process as smooth as possible. I brush my teeth with charcoal powder in the shower because it is that messy. When you do it over the sink, small black droplets can get everywhere after you spit. Doing it in the shower can minimize this. Another tip is to brush gently and avoid the gums because it's common to get pieces of charcoal stuck in your gums, which may take some effort to remove. I tend to floss afterward to get pieces of charcoal out of the cracks and crevices. A thorough rinse can also help loosen up leftover charcoal bits. I brush with Active Bright immediately before going out, just in case a few pesky bits don't come out right away.
In mid-2016 some medical professionals warned against using this type of DIY whitening system. It has been suggested that charcoal powder could degrade enamel, although not enough evidence exists to confirm or deny this theory. Comments on the article were quick to point out that the warnings were without any evidence either way.
Overall, I think Active Bright will deliver impressive results to those who use it. Keep in mind that this isn't a studied or approved method of whitening teeth, so the long term effects of such treatment are unknown. The large number of people who have jumped on this bandwagon haven't seemed to experience many problems thus far, however.
Alternatives
If the packaging and advertising for Active Bright seem familiar, you may have run across Active Wow, which looks, functions, and costs about the same as Active Bright. That $24 item has an impressive 4.6 star rating among about 10,000 consumer reviews.
Your Active Bright Reviews
What are your thoughts about Active Bright? Drop a comment below and a star rating above to let us know what you think about it.