Acuband is an accupressure headband that soothes pain from headaches. Does it work as advertised? Here is our Acuband review.
Sponsored Links
About Acuband
Acuband is a headache diminishing headband that features two acupressure pads and dual adjustment straps. The official website is getacuband.com, with a registration date of July 2017. The screen capture below was taken of the product website in August 2017.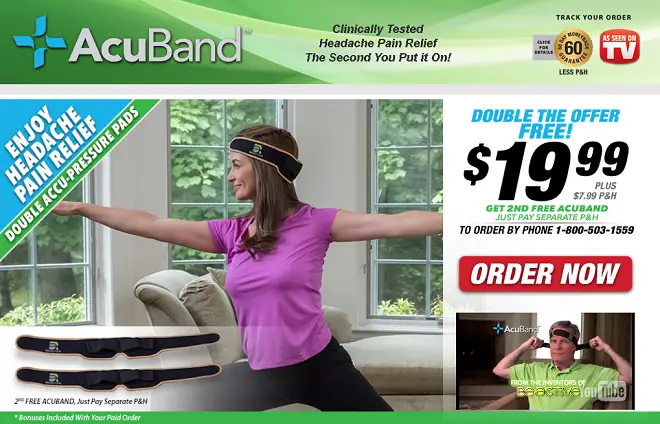 Claims & Features
Made by the inventors of BeActive
Headache remedy that is free of drugs and clinically tested
Administers pressure on two headache acupressure points
Use sitting or standing (lying down not required)
Quickly eases pain by supporting muscles of the neck
Easy to use (put around head and tighten)
Cost
Acuband costs $19.99 + $7.99 P&H for a total of $27.98. There is an optional double offer for a separate fee of $7.99 which would bring the total to $35.97. This item is not yet available in stores.
AcuBand Review
Acuband is a band that wraps around your head, providing acupressure, in order to relieve headache pain. To use Acuband, you merely wrap it around your head and tighten the straps. The pressure pads within the band will then supposedly bring immediate relief to the majority of users.
Sponsored Links
This is the latest product from the makers of the BeActive Brace (the website appears to misspell it, stating that it's from the makers of "B-Active," but the TV commercial spells it right), which is a device you strap on your leg to supposedly reduce pain from sciatica.
I posted a video about BeActive Brace a few years ago, and the comments there were pretty divided. My conclusion with BeActive Brace was that I found little difference in wearing it vs not wearing it. Some commenters agreed that it offered an oversimplified the solution to a complex problem, while others lambasted me for "not doing it right." That vast range of opinions only highlights my point that pain relief is highly subjective and what works for one person may not work for another.
This is all relevant to AcuBand because we are dealing with the same principle: a device that straps onto your body to squeeze pressure points and relieve pain. The key to AcuBand is that it includes two acupressure pads that target "headache trigger points." Thus, when you wear the device, you should feel an immediate reduction in headache pain. I wouldn't expect a 100% reduction in pain, however.
I have no doubt that there will be users who feel that AcuBand works exactly as advertised. There will also be those who say that it doesn't do anything for them. I make this assumption because not all headaches – or people – are the same. There are different kinds of headaches, such as sinus headaches, for example, that may not benefit as much from AcuBand.
Futzuki is another acupressure device advertised on television in recent months, and I posted a video on YouTube for that product, too. That is another device that has mixed reviews due to the subjective nature of pain and acupressure. Some people think it works well, while others don't.
In the end, AcuBand is competitively priced and will certainly help some consumers who seek relief, especially those who suffer from migraines. I anticipate a significant minority of consumers who will find little relief from this product, however. The only way to know is to try it out, and unfortunately at this moment the only way to do that is to buy it online and pay nonrefundable shipping costs. When it becomes available in stores, it will be easier to evaluate with less risks.
Alternatives
If the idea of a headache band is new to you, it may surprise you to learn that there are numerous headache bands on the market. Some of them use ice, while others use pressure. This model by AcuSpur uses a row of acupressure points similar to that of AcuBand.
Television Commercial
Your Acuband Reviews
What are your thoughts about Acuband? Drop a comment below and a star rating above to let us know what you think about it.