Ageless Wonders is a nutritional supplement that restores youthful energy. Does it work as advertised? Here is our Ageless Wonders review.
Sponsored Links
About Ageless Wonders
Ageless Wonders Essential Formula is a supplemental anti-aging pill that supposedly provides energy, promotes heart health, and improves brain function. The official website is buyagelesswonder.com, with a registration date of December 2011. The screen capture below was taken of the product website in September 2017.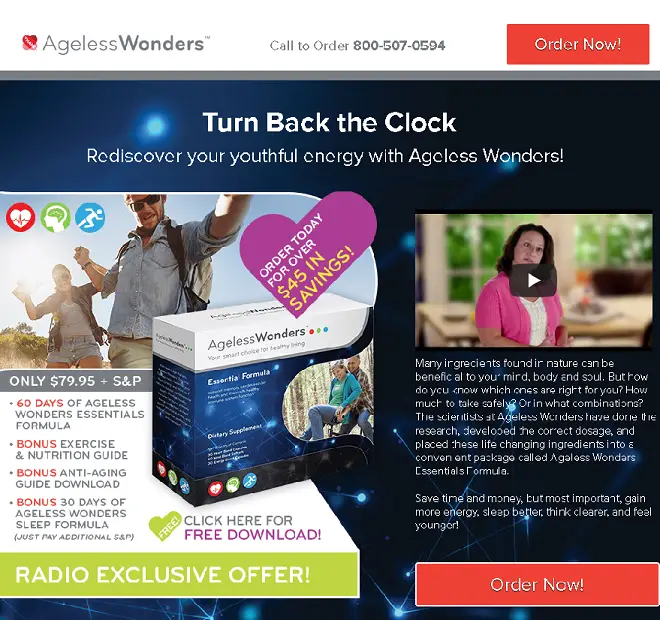 Claims & Features
Filled with antioxidants, herbs, vitamins, minerals, and essential fatty acids
Revitalizes energy (boosts alertness and metabolism)
Encourages heart health (protects from free radicals and inflammation)
Improves cognitive function (strengthens memory, clarity, and ability to manage stress)
Includes sleep formula which enhances sleep
30 day money back guarantee (less shipping and handling)
Cost
Ageless Wonders Essential Formula costs $79.95 + $9.95 P&H for a total of $89.90. There is an optional offer to add Ageless Wonder Sleep Formula for a separate fee of $9.95 which would raise the total to $99.85. The Essential Formula is a 60 day supply, while the Sleep Formula is a 30 day supply. Each order comes with nutrition, exercise, and anti-aging guides.
Sponsored Links
Ageless Wonders Review
Ageless Wonders is a brand of supplements designed to provide a better sense of overall wellness. Comprising of three primary blends: Energy, Heart, and Mind, Ageless Wonders packs most of the popular breed of vitamins and minerals into each pill.  The Energy Blend, for example, contains many of the popular ingredients you'll find in other "energy" supplements, such as B vitamins, magnesium, Guarana seed powder, and the lesser common herb Moringa. Keep in mind that guarana does contain caffeine in a higher concentration than coffee beans, so you'll want to be careful if you are sensitive to caffeine. Most "energy" drinks contain guarana because of its high caffeine content.
The Heart Blend also includes a sort of "best of" list of heart-related supplements like CoQ10, zinc, selenium, and Curcurmin, which helps battle inflammation. Perhaps the only omission in this category may be fish oil, which is one of the few supplements most doctors agree provides benefits. You could probably add fish oil to your daily regimen alongside Ageless Wonders.
Finally, a Mind Blend is designed to support brain health. Once again, this supplement is filled with many of the hottest ingredients today, such as L-Glutathione, Ashwagandha, Rhodiola, Evening Primrose Oil, and Gamma Linoleic Acid. Each of these has been touted in recent years as providing numerous health benefits, including brain support. Thus, it is a nice compilation of many of the trendy brain-support supplements in a single pill.
The use of supplements will provide subjective results. While one person could see an immediate benefit, another may detect nothing significant. Thus, the only way to really know if something like Ageless Wonders works for you is to try it yourself, which probably isn't a good answer to some consumers. The makers have done a good job of including most of the current breed of trendy vitamins, herbs, and minerals under the hood. Not to mention that purchasing these individually would cost a fortune.
High quality vitamins are not cheap, and you shouldn't expect Ageless Wonders to be inexpensive, either. That said, if you are looking for a comprehensive vitamin package with all of today's trendy ingredients, you can't go wrong with Ageless Wonders. I would recommend adding a fish oil supplement to the mix, and you'll be all set.
Ageless Wonders is marketed by Thane Direct, a popular As Seen on TV company that also sells products like Ab Doer 360.
Alternatives
The supplement market is saturated with endless options. This Naturelo multivitamin, for example, contains ingredients for energy, brain, heart, and eye health. Once again, it's not cheap, with a price tag of about $76. If you're looking to add a fish oil supplement, consider this best seller by Dr. Tobias, which has nearly 10,000 reviews and a 4.7 star rating.
Television Commercial
Your Ageless Wonders Reviews
What are your thoughts about Ageless Wonders? Drop a comment below and a star rating above to let us know what you think about it.