AirTouch Rotating Makeup Brush is a mobile makeup applicator. Does it really work? Here is my AirTouch Rotating Makeup Brush review.
Sponsored Links
About AirTouch Rotating Makeup Brush
AirTouch Rotating Makeup Brush is a battery powered cosmetic applicator that spins at 190 RPMs. The official product website is airtouchbrush.com, which was registered in June 2017. The screenshot below shows how the product website looked in October 2017.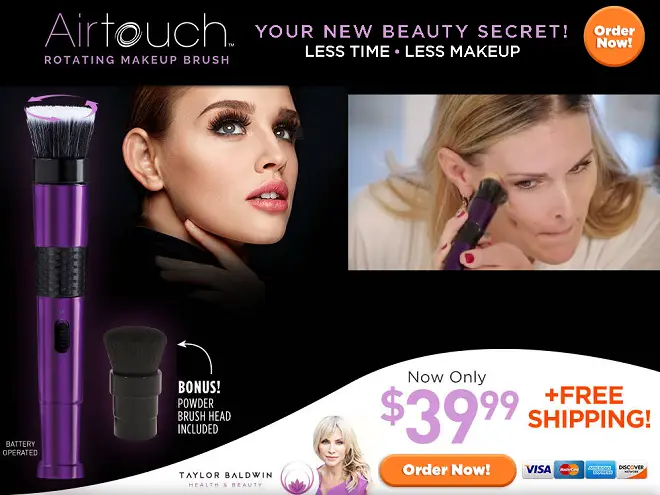 Claims & Features
Quick and simple
Even blending without lines or streaks
More coverage with less makeup than manual application
Excellent results for any age
30 day money back guarantee (less P&H)
Cost
An AirTouch Rotating Makeup Brush starter set costs $39.99. Shipping is free. The set comes with the rotating applicator, a liquid brush head, and a powder brush head. There are options to add three extra brush heads for $19.99 (includes blush brush, finishing brush, and defining brush) and 3-5 day expedited shipping for $2.95. At the time of this writing, AirTouch Rotating Makeup Brush is not available in stores.
Sponsored Links
AirTouch Rotating Makeup Brush Review
AirTouch Rotating Makeup Brush is a highly advertised product that allows you to easily apply makeup via a spinning brush. To use AirTouch Rotating Brush, you simply insert the desired brush and hit the on/off switch. The brush is snapped into place and remains securely attached throughout use. The suggested way to apply foundation is to apply it in dots around your face, forehead, cheeks, nose, and chin. You'll then apply the brush, moving it up and down, and left and right. On the nose, you'll move it up and down the bridge, and angled down the sides. Oddly, the instructions tell you not to use a circular motion. For blush, you press the spinning brush into your makeup and simply apply the blush to the desired location.
AirTouch Rotating Makeup Brush delivers an evenly blended makeup experience with little effort, excellent coverage, and deep penetration of pores.
Two brushes are included: a foundation brush and a blush brush. Both are very soft and you can use them to apply liquid or powder. Cleaning the brushes is easily achieved by using soap and water. You can even speed up the drying process by allowing it to rotate after cleaning. A 3-volt battery is also included and this is probably the only real "con" of this otherwise stellar product. It is not a rechargeable battery, nor is it a standard size. I have not seen this type of battery in stores, so most people will probably have to order it online. If you find yourself using this brush often, you may want to order ahead to stock up on these batteries.
The unit could be described as noisy, which may be a nuisance to some consumers. I don't think most women will mind the sound, especially given the overall benefits of the product.
Overall, AirTouch Rotating Makeup Brush is a solid entrant in this category, and the overwhelming majority of consumers who purchase it have been pleased. Cost-wise it lands right in the middle of the pack. You may want to peruse the reader comments for AirTouch Rotating Brush on Amazon, where it currently holds a solid 4.6 star rating.
Another odd footnote is that there was an "AirTouch Makeup Brush" that advertised in recent years, and used the same website as this one. That was a set of standard makeup brushes that no longer seems to be available.
Alternatives
If the price of AirTouch Rotating Makeup Brush is too high, you could consider an inexpensive alternative such as this Letigo model for $16. On the other end of the spectrum is this $80 Michael Todd antimicrobial sonic foundation brush, with high consumer ratings.
Your AirTouch Rotating Makeup Brush Reviews
Have you used AirTouch Rotating Makeup Brush or something like it? Leave a comment below and a star rating above to let us know your thoughts.