Amazing Reach Cane Review: Does it Work?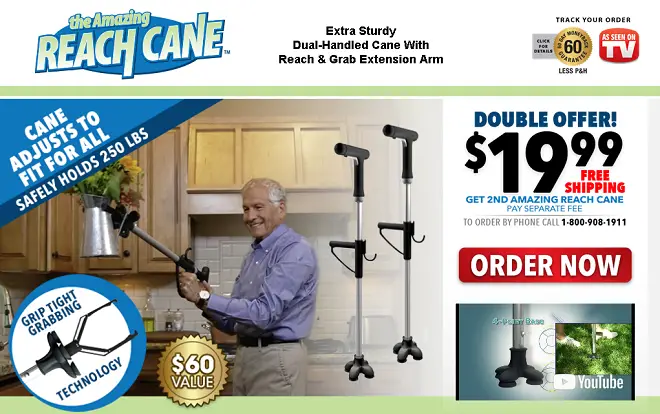 Amazing Reach Cane is a sturdy double handled cane with a built-in extension arm. Does it work as advertised? Here is our Amazing Reach Cane review.
Sponsored Links
About Amazing Reach Cane
Amazing Reach Cane is a dual-handled cane that features a quad point base, a carrying hook, and a built-in extension reacher. The official website is amazingreachcane.com, with a registration date of July 2017. The screen capture below was taken of the product website in August 2017.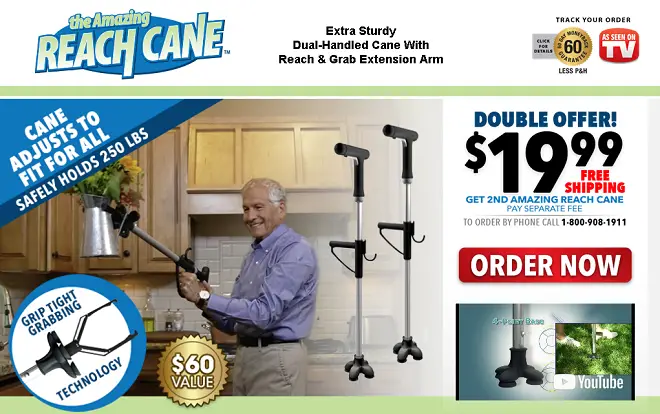 Claims & Features
Lightweight cane with durable dual handles
Stable 4-point base
One size fits all (height is adjustable)
Includes built-in reversible carrying hook
Cane supports weight up to 250 lbs.
Precision grabber can lift up to 10 lbs.
Comes with bonus LED flashlight and audio alert
Cost
The Amazing Reach Cane costs $19.99. There is an optional double offer for a separate fee of $7.99 which would raise the total to $27.98. Shipping is free on both offers.
Amazing Reach Cane Review
When I first saw the website for Amazing Reach Cane, I immediately thought of two previous products I've discussed here: Get Up & Go Cane, and the Grab It reacher. Amazing Reach Cane shares many similar design features with Get Up & Go Cane, and also serves as a grabbing tool.
As a cane, Amazing Reach Cane sports a stable quad base, which many cane users have told me offers improved stability over standard canes. It also features a dual-handle design to make standing easier, and this is a feature I first noticed on the Get Up & Go Cane. An included hook is helpful for temporarily storing items such as a purse, especially when you are using both hands to stand.
Sponsored Links
To activate the grabber, you slide the handle downward which will reveal the reaching tool, and then press the trigger. Although the commercial shows it easily lifting heavy objects, I'd take those claims with a grain of salt. I've tested quite a few reachers/grabbers over the years and rarely are they able to handle a 5-pound bag of flour as easily as the commercial suggests. It has also been my experience than sometimes hybrid products don't usually out-perform two items with a single function. Thus, you can probably find a better cane and a better reacher as individual items. On the other hand, if you don't require the highest quality cane or grabber, Amazing Reach Cane may be a good fit for you.
Keep in mind that the website for Amazing Reach Cane was only registered in August 2017, which tells me this is a test marketed item. If that is the case, it's likely that the company only produced a small number of units – or even just a prototype – to advertise. If there are sufficient orders, they'll have to go back to the factory to produce more, which could take many weeks to arrive at your doorstep. If there isn't enough interest, they'll cancel all orders and discontinue the product. That's a rather common practice for test-marketed As Seen on TV products, although I can't say for sure that is the case here.
I'll update this space as more information becomes available.
Alternatives
There have been other canes which included a grabbing device, such as the Snapper Cane, which offers a much smaller grabber than Amazing Reach Cane. If you're just looking for a cane, this $16 folding cane by Vive sports a high consumer rating, while this $15 reacher – also by Vive – is an Amazon #1 Best Seller.
Below is my video review for another grabber, called Grab It, which may be of interest to you.
Television Commercial
Your Amazing Reach Cane Reviews
What are your thoughts about Amazing Reach Cane? Drop a comment below and a star rating above to let us know what you think about it.