Amazing Tank is advertised as a kid-friendly fish tank that cleans itself. Read Amazing Tank reviews plus key product information.
Sponsored Links
Amazing Tank Review
September 2014 note: Amazing tank appears to have been rebranded as My Fun Fish Tank. The information below is still accurate, but only the name has changed. Here is a more recent review of My Fun Fish Tank.
Amazing Tank is a self-cleaning fish tank marketed to children. It works by means of a tube embedded in the gravel. When water is added, dirty water from the gravel is pushed up and out of the tank.
The tank appears to be either a knockoff or perhaps related to a product called No Clean Aquariums which look virtually identical to Amazing Tank.
Amazing Tank does not feel like it is made with highly-durable materials. The size is also rather small, perhaps large enough for a single betta fish.
Fish enthusiasts have pointed out that this product may not fully address other important tank care concerns, such as water temperature, oxygenation, or water chemistry.
Sponsored Links
Tagline: "The aquarium that cleans itself."
Amazing Tank "About" Paragraph
This product is an aquarium kit that cleans itself, leaving the consumer with no mess to clean. Eradicates disturbing pump noises, filters and electricity.
Official Website
amazingtank.com
Creation Date: 21-nov-2013
Contact
Web: AmazingTankCustomerService.com.
Email: [email protected]
Phone: 1-877-370-1451
Hours: Monday – Friday 8am to 8pm EST
Claims/Features
Gravity clean technology – pour clean water in top, dirty water flows out through the cleaning spout!
Keeps water fresh, oxygenated and clean
Kid-Friendly, Mess-Free, and Self-Cleaning
No electricity, noisy pumps or filters required!
Perfect for the bedroom, family room, any room!
Not in stores
Cost
$19.99 and $6.99 processing and handling = $26.98
BONUS offer and receive 1 Aquatic Plant, 6 Glow-In-The-Dark Stones, and 1 Red LED light and 1 Blue LED light for just $6.99 additional processing and handling.
Total: $33.97
Screenshot
Below is a screenshot of the official website, taken in March 2014: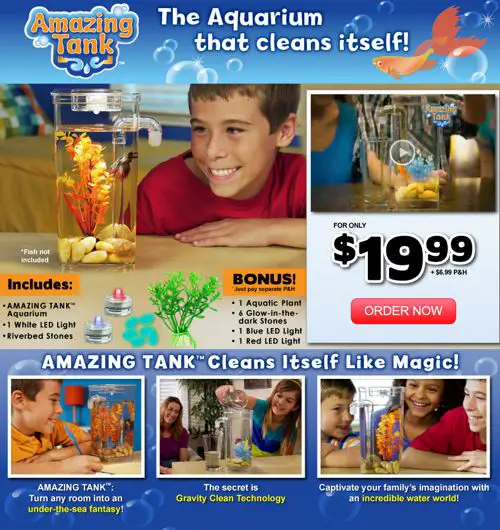 Television Commercial
Below is a television commercial for Amazing Tank:
Amazing Tank Reviews
Have you tried Amazing Tank? Please give us your review in the comments below and give it a star rating above.