Amope Gel Activ Insoles Review: Do They Work?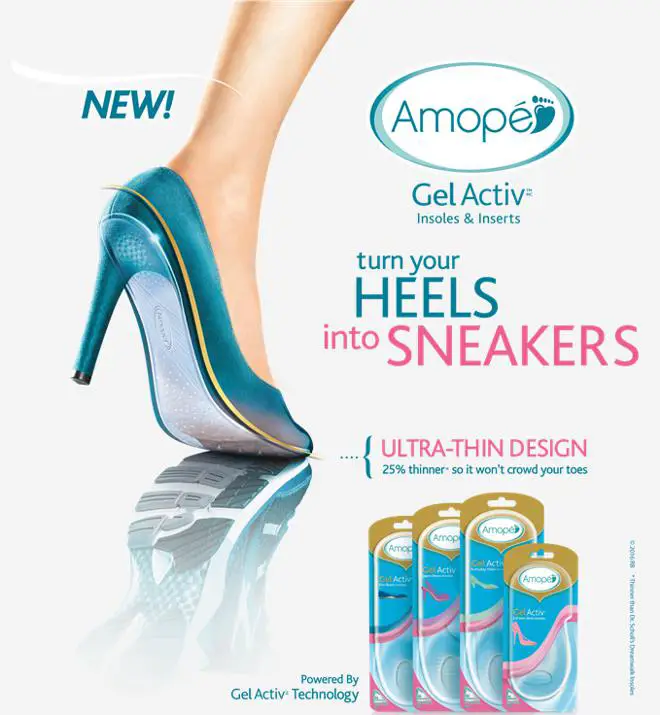 Amope Gel Activ Insoles are a line of shoe inserts for women, advertised as comfortable and discreet. Do they work? Read our Amope Gel Activ Insoles review.
Sponsored Links
About Amope Gel Activ Insoles
Amope Gel Activ Insoles are advertised as a way to make your heels feel as comfortable as sneakers. The official product website is amope.com, which was registered in September 2012. There are five different types of Gel Activ Insoles, with product pages found on the main Amope website.
Claims & Features
Non-slip, stays firmly in place
25% thinner, so it doesn't crowd toes
Fits women's sizes 5 to 10
Four designs: Everyday heels, Flat Shoes, Extreme Heels, and Open Shoes
Made of soft elastic gel
Clear gel remains discreet
Washable and reusable
Cost
You should be able to find at least some versions of Amope Gel Activ Insoles in stores such as Target for about $10. If you have no luck locally, your next best choice is probably the Amope Amazon storefront, where you can find them for about $17-18.
Amope Gel Activ Insoles Review
Amope Gel Activ Insoles (sometimes stylized as "GelActiv") is a line of shoe inserts for women, which are advertised as thinner than the competition, which means they won't crowd your toes. They are made of a clear material, allowing you to use them discreetly, even in heels or open toe shoes.
The current (2016) advertising campaign focuses on their heel inserts, which they say can make your heels as comfortable as a pair of sneakers.
Sponsored Links
The inserts are somewhat narrow and thin, with a sticky backing that is adhered to your shoes. They should fit comfortably for the majority of women, although when you get to the upper end of its range (size 10), they start to seem too small to get the job done. The thin design could be seen as a pro or a con, depending on who you ask. While this feature does allow the toes a bit more room than other inserts, it also doesn't provide quite as much padding.
There is a plastic backing and each insole is marked L or R. You'll want to be sure that the shoe is clean and dry before placing the insole inside. You should expect to get about 6 months of use from each pair. Although the inserts are said to be washable and reusable, the sticky backing will degrade each time it is removed.
Reader reviews give the various Gel Activ products around a 3.8 star rating. For those who it fits comfortably, you'll find overwhelmingly positive reviews. Those with larger feet tend to give it around a 2 star rating.
Overall, Amope Gel Acti Insoles are a solid entrant in this category. They aren't perfect, but for the majority of women, they should get the job done. If you have small to medium feet, these should be on your short list of insoles to consider.
Alternatives
Dr. Scholl's DreamWalk High Heel Insoles are probably the closest you'll find to Amope's advertised High Heel variant. You can find that for about $8, and about a 3.3 star rating among consumers. As with the Amope counterparts, these tend to be more popular with women who have small to medium sized feet.
Below you can see my full review of Copper Fit Balance, a popular As Seen on TV shoe insert that made my Best of 2017 list.
Television Commercial
Your Amope Gel Activ Insoles Reviews
Have you used Amope Gel Activ Insoles? Let us know what you think by leaving a comment below and a star rating above.