Arctic Air is a personal air cooler, humidifier, and purifier all in one. Does it work as advertised? Here is our Arctic Air review.
Sponsored Links:
About Arctic Air
Arctic Air is a lightweight and portable space cooler that features a programmable digital thermostat, LCD display, and a two speed fan. The official website is buyarcticair.com, with a registration date of August 2017. The screen capture below was taken of the product website in September 2017.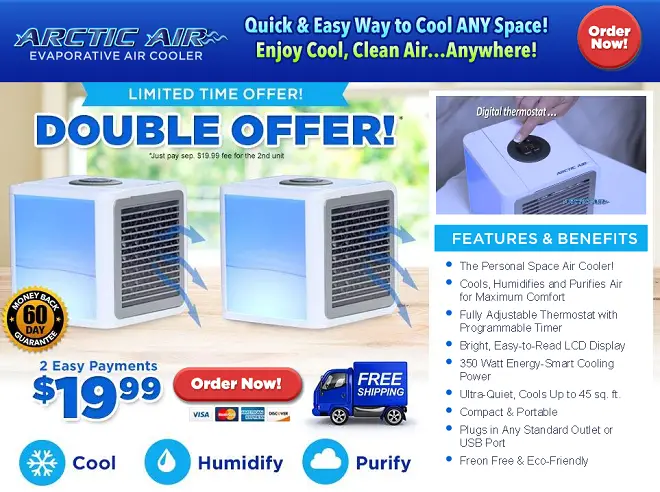 Claims & Features
Compact and portable air cooler
Cools, humidifies, and purifies
Built-in thermostat with programmable timer
LCD display (luminous and simple to read)
350 watts
Quiet two speed fan
Works on a 45 square foot area
Powered by standard outlet or USB
Not harmful to environment (does not use Freon)
Cost
Arctic Air costs $39.98 + $1 web servicing fee for a total of $40.98. The payment can be made in total or in two installments of $19.99. There is an optional double offer for a separate fee of $19.99 which would raise the total to $60.97. Shipping is free on all offers. At the time of this writing, Arctic Air is not available in stores.
Arctic Air Review
When I first saw the commercial for Arctic Air, it reminded me of a cool-air version of Handy Heater, which was one of my most popular YouTube videos over the past year. Handy Heater is a small space heater, while Arctic Air is a small space cooler. What's odd to me is the timing of Arctic Air's appearance, which came at the end of summer. Handy Heater ramped up its advertising in late 2016, just as the warm weather was fading into Fall. Arctic Air has appeared at the end of summer when such an item won't be in much demand. My only guess is that it could be something they're test marketing for next year, not unlike how Telebrands test-marketed Window Wonderland right after Christmas in 2016 and brought it back in full force in mid-2017.
Sponsored Links:
With that in mind, let's take a closer look at Arctic Air. This is a space cooler that uses evaporation. In other words, it's a fan that blows air over water. Their description sounds a bit more impressive: "The compact, eco-friendly personal air cooler that pulls warm air from the room through its evaporative water filter to humidify while it cools! Arctic Air™ cools, humidifies, and cleans the dust particles for better air!"
The good aspect of this product is that it will blow cool air at you, and the air it produces will be cooler than a standard fan which merely moves air. It's not unlike "misters" we have here in the desert, which spray a fine mist that can keep you cool even in very high heat. The not-so-good reality is that you'll probably need to sit right in front of this to feel much cooling effect. Although the website states that it can cool a 45 square foot area, the reality is that you'll want to be in the line-of-sight for it to make much of a difference.
Arctic Air holds 750ml of water, which is about the same amount as a bottle of wine. I've found these devices work best with very cold water. Some competing products even use ice instead. Another factor to consider is humidity. If you are in a very humid environment, I wouldn't expect this to deliver much relief because evaporative cooling works best in low humidity (probably around 40% or less).
One final point that isn't clear at first is that you'll need to clean this unit regularly, just as you would a humidifier, especially if you let any water sit in the reservoir after use. You'll want to keep your expectations low for an item like this.
Alternatives
You can find countless personal space coolers online and in stores. This $27 model uses ice cubes rather than water. If you want to move up to a slightly higher price range, you can find more powerful models, such as this $150 evaporative air cooler with a modest 3.3 star rating. I should point out that most space coolers of this size and price range fall in the 3-star consumer rating, as you can see if you scroll down to the comparison of other models on that product page. It would appear that consumers tend to want more out of these devices than they can deliver.
Related Review
The video below is a good demonstration on evaporation works and doesn't work in dry or humid climates. In this video, I used "cooling towels" (which also work on the principle of evaporation) in Las Vegas and two areas of Maui.
Your Arctic Air Reviews
What are your thoughts about Arctic Air? Drop a comment below and a star rating above to let us know what you think about it.