Arctic Hat Review: Does it Work?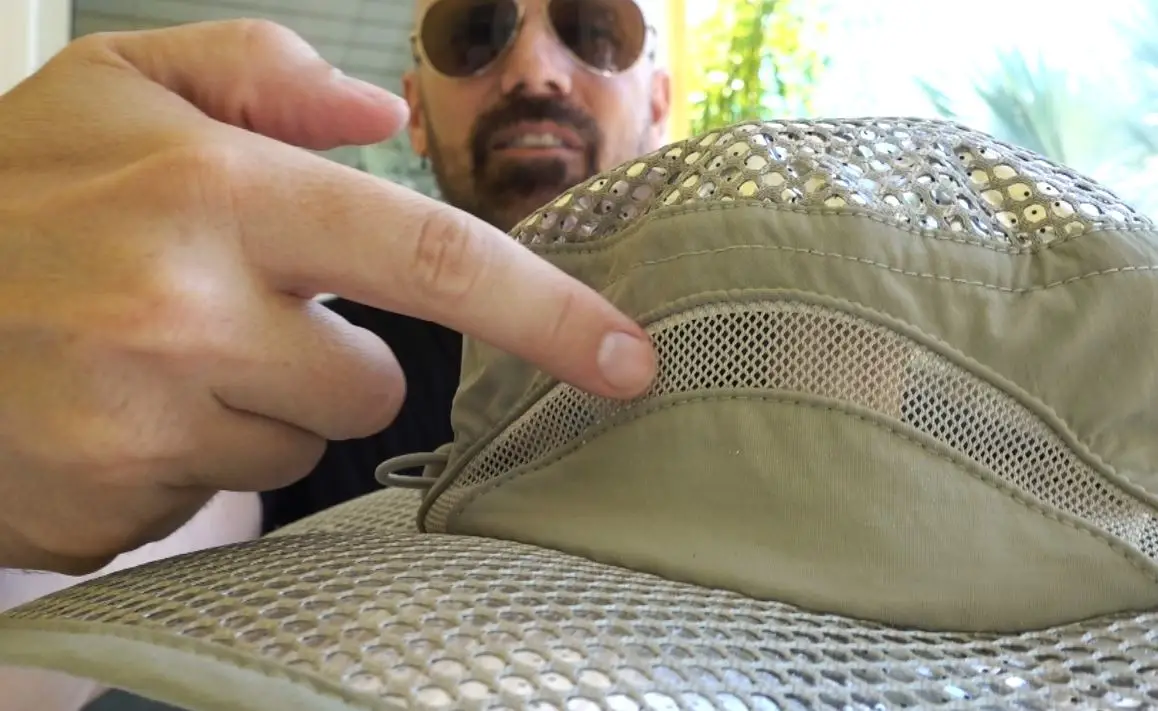 Arctic Hat is a hat that keeps your head cool with an inner liner that uses evaporative water cooling. Does it really work? Here is my Arctic Hat review.
Sponsored Links
About Arctic Hat
Arctic Hat is a hat that combines sun protection with an evaporative cooling liner that requires cold water to keep your head cool. The official product website is buyarctichat.com, which was registered in July 2018. The screenshot below shows how the product website looked in May 2019.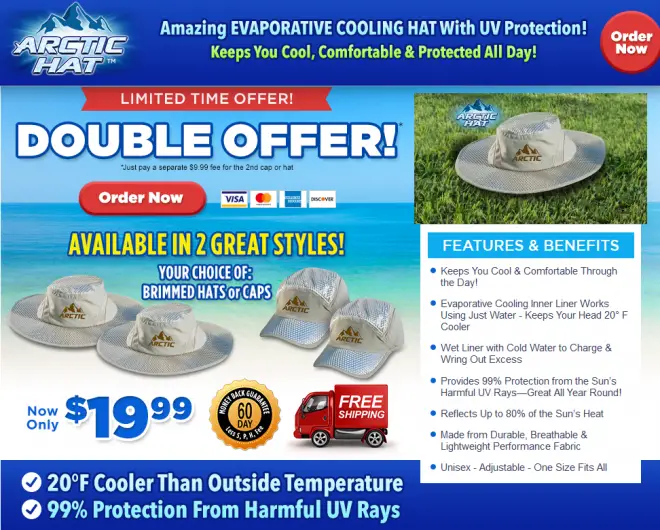 Claims & Features
Helps you stay cool
Apply cold water to inner lining to lower temperature of head by 20 degrees
Material reflects 99% of sun's UV rays
80% of sun's heat is reflected
Mesh fabric is ventilated, lightweight and sturdy
One size fits almost anyone
Cost
Arctic Hat costs approximately $20. It can be ordered online or found in stores such as Walmart, Bed Bath & Beyond, and Ace Hardware. Ordering from the product website will likely include shipping costs, but will also include a potential double offer and additional options (brimmed hat or ball cap and deluxe versions).
Arctic Hat Review
The Arctic Hat is an As Seen On TV cooling hat that I first noticed in early 2019. Having reviewed the company's Arctic Air and Arctic Air Ultra, I found a "cooling hat" to seem a bit amusing but nevertheless wanted to give it a fair evaluation to see if it really worked.
I bought the Arctic Hat for about $20 at an As Seen On TV store in Las Vegas. Over a two week period, I tested the Arctic Hat in both the dry weather of Nevada and the humid climate of Florida.
First I tested the Arctic Hat while hiking in the desert around Vegas and compared it to a regular baseball cap that I also got wet. Before leaving on my 20-minute hike, I applied cold water to the inner lining of the Arctic Hat. It did stay pretty cool, and it kept the sun off of my face and neck. According to the adverting, the hat is supposed to keep your head 20 degrees cooler than the ambient temperature. During my hike, it was around 96 degrees Fahrenheit with 9% humidity. Using a digital thermometer, my head measured 87 degrees while the inner lining of the hat measured 59.9 degrees. So the material against your head is cooler, but it doesn't necessarily keep your head 20 degrees cooler.
Sponsored Links
For the 20 minute walk back, I applied cold water to the regular baseball cap. The Arctic Hat did keep my head cooler than this control hat, and it also blocked more of the sun. I noticed that the baseball cap warmed up much quicker than the Arctic Hat.
This is not the first evaporative cooling product that I've reviewed. I also reviewed the Mission Cooling Towel in 2017 and the Koldtec Towel in 2018 and compared both in Nevada and Florida due to the differences in humidity.
For my Florida tests, it was 88 degrees with 63% humidity. After walking around for about 15 minutes, I observed that the Arctic Hat had started warming up. Evaporative cooling does not work well in humidity, so the hat worked well in the dry climate of Nevada, but did not perform as well in the humid climate of Florida. It just felt like warm water on my head, yet it still performed well in blocking out the sun.
Again, I used the regular hat as a control. I dipped it in the ocean water and walked around for several minutes. As with the Arctic Hat, it warmed up quickly while not providing as much protection from the sunshine.
In the end, Arctic Hat isn't really a style of hat I would normally wear – and it does not work as well in humidity – but it did keep me cooler in the dry climate of Las Vegas. It also provided some protection from the sun, though I'm not so sure it is that much different from the protection provided by any wide-brimmed hat. As it turned out, the Florida sun was quite punishing on my trip there, and I ended up wearing the Arctic Hat everywhere I went, not because of its evaporative cooling, but because it protected my neck and shoulders better than a regular hat.
If you live in a dry area, I believe the Arctic Hat will serve you well, but if you're in a more humid area, I suggest having limited expectations.
Below is my full video review of Arctic Air.
Alternatives
You may be surprised to find that there are a number of cooling hats on the Market. Mission offers a baseball hat and a bucket hat. Fur the ultimate neck protection, you may want to consider something like this wide brim fishing hat.
Your Arctic Hat Reviews
Have you used Arctic Hat or something like it? Leave a comment below and a star rating above to let us know your thoughts.
Tags: