Atomic Beam Fearless is a tactical flashlight with built-in survival tools. Does it work? Read our Atomic Beam Fearless review.
Sponsored Links
About Atomic Beam Fearless
Atomic Beam Fearless is a multi-tool tactical flashlight. The official product website is fearlessflashlight.com, with a registration date of September 2016. Below is a screen shot of the official website taken in November 2016.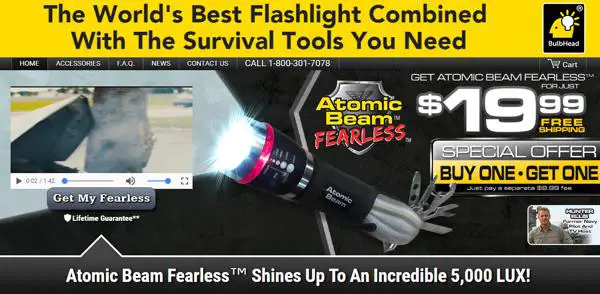 Claims & Features
Shines up to 5,000 Lux
Tools include: Flashlight, strobe, window breaker, blade, opener, screwdriver, mini hex wrench, scissors, seatbelt cutter
Sturdy, lightweight, and portable
Cost
You can get Atomic Beam Fearless for $19.99 with free shipping. A "double offer" will get you two flashlights for $29.98, also with free shipping.
The "Pro Rechargeable" option is $29.99 for one, or $49.98 for two – also with free shipping.
As of this writing, Atomic Beam Fearless is not available in stores.
Sponsored Links
Atomic Beam Fearless Review
You've no doubt seen advertisements for tactical flashlights in recent months, with such popular brands as Tac Light (review) and Atomic Beam USA. The latter has introduced other items under the "Atomic Beam" brand such as Atomic Lantern, and now Atomic Beam Fearless.
While the original Atomic Beam USA is simply a bright and durable LED flashlight, the Fearless version includes a number of "survival tools" to extend the usefulness of the product.
Spec-wise, the flashlight appears to be the same or similar to the original. This should be sufficient for most consumers, although there are much higher end tactical lights on the market.
Several tools fold out to provide quick access to a number of vital instruments. In addition to your flashlight, you'll be able to choose from a blade, lid opener, Philips screwdriver, mini hex wrench, scissors, glass breaker, and seat belt cutter.
As with any multi-tool product like this, the usefulness will largely depend on your situation. If you're at home working on a project, these tools will obviously not be sufficient. In a pinch, however, the tools should be enough to get you through a tough situation.
The "beveled end for self-defense" may be a bit of a stretch as far as how practical it may be in a dangerous situation, but it is also a standard feature for many tactical flashlights.
Overall, if you keep the size and practicality of the included tools in mind, Atomic Beam Fearless will likely be a satisfying purchase. Because of the added features, it is probably a better option than the original Atomic Beam USA, which only features a flashlight. The primary advantage that the original has over the Fearless version is local availability. When Atomic Beam Fearless becomes available in stores, it could supplant the original Atomic Beam USA altogether.
Alternatives
Perhaps not surprisingly, Atomic Beam Fearless isn't the first multi-tool LED flashlight. You can find similar options online, such as this $17 Xtreme Bright Escape Tool flashlight. That item holds a 3.5 star rating among over 100 customer reviews.
Television Commercial
Your Atomic Beam Fearless Reviews
Have you used Atomic Beam Fearless? Give us your thoughts by leaving a comment below and a star rating above.