Atomic Charge Wallet is an aluminum cased wallet that doubles as a cellphone charger. Does it work as advertised? Here is our Atomic Charge Wallet review.
Sponsored Links:
About Atomic Charge Wallet
Atomic Charge Wallet is a compact wallet with an accordion design that features a slim aluminum casing, RFID blocking, and a built-in phone charger. The official website is atomicchargewallet.com, with a registration date of April 2017. The screen capture below was taken of the product website in May 2017.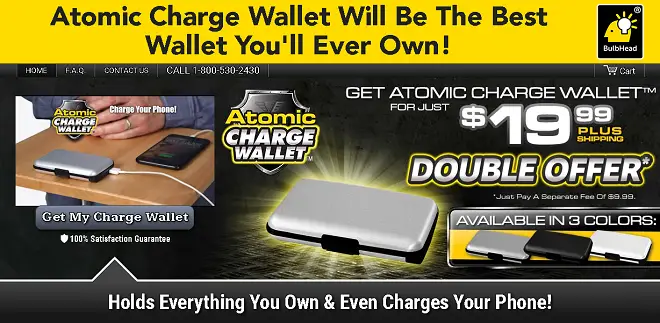 Claims & Features
Accordion design stores cash & credit cards
Doubles as a phone charger
Slim casing of durable aluminum
Compact, lightweight, & water resistant
Lined with RFID blocking technology
Cost
Atomic Charge Wallet costs $19.99 + $9.99 shipping for a total of $29.98. There is also a special double offer where two wallets can be purchased for $29.98 + $9.99 shipping which adds up to $39.97. The wallet is available in three different color variations: black, white, or silver.
Atomic Charge Wallet Review
You've probably seen ads for Atomic Beam, Atomic Beam Lantern, and Atomic Beam Headlight. Now the makers are back with the latest product under the Atomic brand: Atomic Charge Wallet.
Sponsored Links:
In March 2017 I wrote about a product being test marketed under the name Power Plus Wallet, which soon disappeared. It appears, however, that Atomic Charge Wallet is the same item, now re-branded under the "Atomic" umbrella of products. I say this because the advertising was nearly identical, and featured the same spokesman.
A few years ago, As Seen on TV marketers jumped on the over-hyped RFID-blocking craze and dumped a number of wallets in this category on the market. Thus, at first glance it would seem that Atomic Charge Wallet is rather late to the RFID-blocking game, but this item includes an extra function those older wallets didn't: an included cell phone charger.
As someone who has carried a second power pack around, I can see this being a valuable item to those who constantly need to charge their phones. The convenience reminds me of similar charger phone cases that have risen in popularity in recent years. If you've used one of those, you probably understand the value of having extra battery power on hand.
Atomic Charge Wallet sports a hard shell case, which is a common design that some people do prefer. I tried one of those aluminum wallets a few years ago because I liked the idea of protecting my belongings, but I eventually gave it up because I didn't like the unforgiving material in my back pocket.
The accordion inner design may take some getting used to. Some people swear by this type of configuration, while others tend to prefer a more traditional two or three panel billfold with a money compartment.
The RFID blocking technology brings up a topic (that remains debatable) whether or not any actual threat exists from skimming. When the RFID-blocking craze exploded a few years ago, Popular Mechanics pointed out, "No one we spoke with actually heard of RFID 'skimming' occurring outside a lab."
A hard-shell wallet with an accordion design may take some getting used to for some consumers, but if the advertising looks compelling to you, this could be worth trying out. I'm not particularly fond of hard wallets, and I'm not convinced that RFID blocking is a necessity. Thus, for someone like me, this would be a "pass." There are those, however, who covet many of the features included in this wallet and they will surely covet such an item.
It will be interesting to see if this re-branded wallet can make an impact with consumers this go round.
Alternatives
There are, of course, other wallet chargers on the market. This Nomad Wallet is one such example. If the charging feature isn't of interest, you can find this Amazon Best Selling stainless steel wallet for $9.
Your Atomic Charge Wallet Reviews
What are your thoughts about Atomic Charge Wallet? Drop a comment below and a star rating above to let us know what you think about it.