Atomic Cool Review: Does it Work?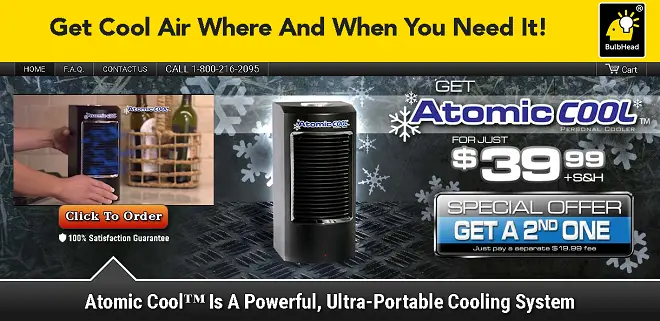 Atomic Cool is a portable cooling system that converts dry hot air into humid cool air for cooling an area up to 50 square feet. Does it really work? Here is my Atomic Cool review.
Sponsored Links
About Atomic Cool
Atomic Cool is a compact air cooler that features a digital thermostat and the ability to power through a standard electrical outlet or batteries.  The official product website is getatomiccool.com, which was registered in September 2017. The screenshot below shows how the product website looked in February 2018.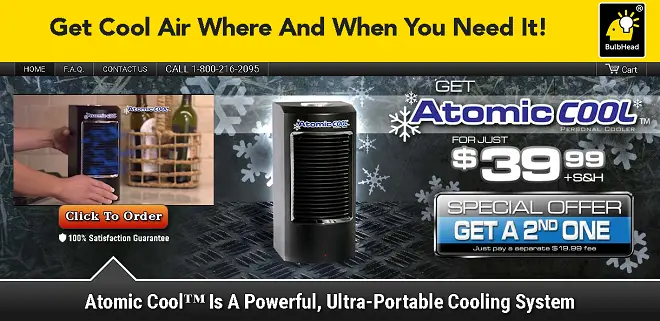 Claims & Features
Capable of cooling a 50 square foot area
Draws in warm air and transforms it to cool air
Compact and lightweight
Built-in digital thermostat
Runs on either electricity or batteries
Cost
Atomic Cool costs $39.99 + $9.99 shipping for a total of $49.98. There is an optional double offer for a separate fee of $19.99 which would raise the total to $69.97. At the time of this writing, Atomic Cool is not available in stores.
Atomic Cool Review
As the weather heats up around the country, I've noticed a number of warm-weather related products pop up on TV and online. One such product is Atomic Cool, an evaporative cooler marketed under the "Atomic" brand. You've probably seen other "Atomic" products such as Atomic Beam, Atomic Beam Lantern, Atomic Beam Headlight, Atomic Angel, and more. Now with Atomic Cool, we have a space cooling device that is portable and uses only water to keep you cool.
To use Atomic Cool, you simply fill the reservoir with water and turn it on. Unlike some competing products on the market, you can power Atomic Cool through an outlet or with batteries, which is a nice option. A digital thermostat allows you to choose the temperature you'd like.
The "trick" to Atomic Cool is that it works better in lower humidity. The higher the humidity, the less impressive results will be. Even the commercial notes that it will pull in "hot stale dry air and converts it to cool moist air." I live in the desert where it's not uncommon to see humidity as low as 5%. In a climate like this, evaporative cooling works very well. Many Las Vegas pools have "misters" which add moisture to the air and help cool nearby sunbathers. You don't see misters in Florida because the air is so humid that evaporative cooling doesn't work there. Thus, a product like Atomic Cool will blow cool moist air here in Las Vegas, but probably won't be as effective (if at all) when the humidity starts pushing the upper end of the spectrum. In fact, it could even raise humidity by a few percentage points and make the air less comfortable in extreme humidity.
Sponsored Links
Atomic Cool is said to cool an area up to 50 square feet, which is about a 7 x 7-foot space. I've also found that you probably need to sit right in front of it in order for it to work properly. When compared next to a standard fan – and depending on the humidity – you should notice that the air emanating from Atomic Cool is in fact colder. Some users like to put ice water in the unit, which will help blow slightly colder.
If you live in a more humid area, you will probably notice less of a difference between Atomic Cool and a standard fan. You may also find that the filter doesn't dry out as easily and may need to be set out after each use. Another option is the simply let the fan run for a couple hours after water is exhausted so that the filter can dry out. Failure to dry out the filter could result in mold, which also happens with humidifiers. In Las Vegas where the humidity is extremely low, the filter will dry out on its own without any maintenance.
Overall, Atomic Cool should work as a fan that blows colder air than usual, provided that you are in a climate with humidity under about 60%. I wouldn't expect it to perform miracles, but if you place it right in front of you in a dry climate, there will be a discernible difference over a standard fan. My friends in the south who swelter in brutal humidity will find little to no relief with this or any other evaporative cooling device.
Alternatives
There are numerous evaporative coolers on the market, and most have mixed reviews due to the different results in different climates. You should probably expect to pay more for a unit that will live up to your expectations, such as this $156 model that has solid consumer ratings.
You may have seen ads for another evaporative cooler called Arctic Air, which works using the same principle as Atomic Cool. You can see my full video review of that product below.
Your Atomic Cool Reviews
Have you used Atomic Cool or something like it? Tell me your thoughts in the comments below.
Tags: