Atomic Lighter Review: No-Fuel Lighter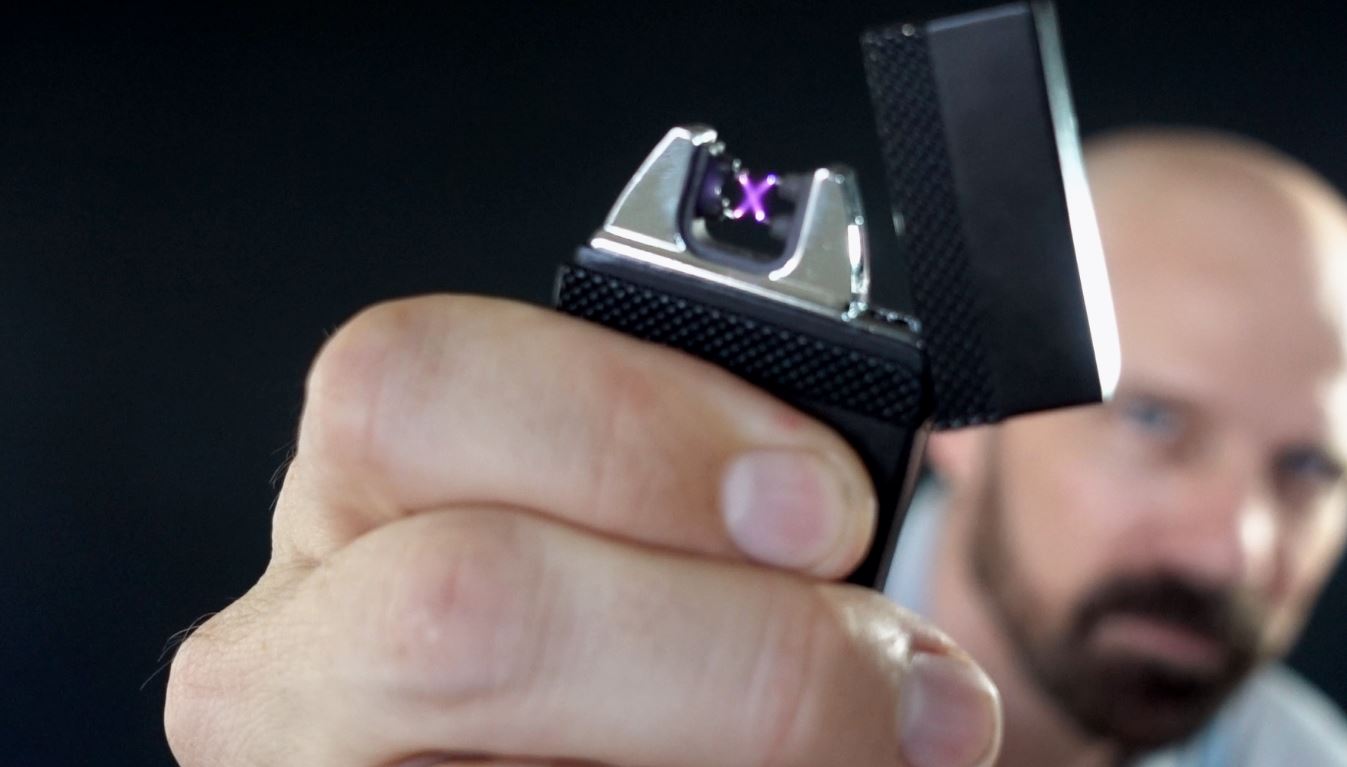 Atomic Lighter is a rechargeable lighter that does not require fuel. Does it work as advertised? Here is our Atomic Lighter review.
Sponsored Links
About Atomic Lighter
Atomic Lighter is a tactical rechargeable lighter that uses a plasma arc for ignition instead of a flame. The official website is atomiclighter.com, with a registration date of February 2017. The screen capture below was taken of the product website in June 2017.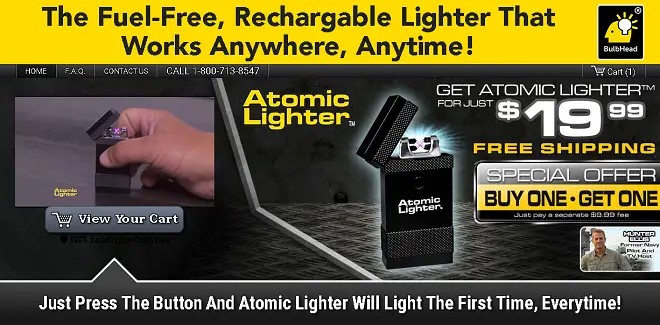 Claims & Features
Creates fire without gas or butane
USB rechargeable (over 100 uses with a single charge)
Utilizes plasma arc technology
Durable construction
Lifetime guarantee
Cost
Atomic Lighter costs $19.99 with free shipping. There is an optional double offer which provides the second lighter for $9.99 which raises the total to $29.98 (shipping is still free).
Atomic Lighter Review
You've no doubt seen ads for other "Atomic" brand products such as Atomic Beam, Atomic Beam Lantern, Atomic Beam Headlight, and others. This brand caters to outdoors types and those interested in the survival and "tactical" niches. Now the makers are back with Atomic Lighter, a rechargeable electric lighter that doesn't use any fuel.
Using Atomic Lighter doesn't require the annoying flint-spinning technique that you'll find with standard lighters. In fact, you merely press a button on the side of the lighter to activate its plasma arc. Once lit, the lighter can be used to light anything you would with a standard lighter.
There have been a number of similar lighters that have appeared on the market recently, such as a competing item called Ever Light, but that one takes batteries, while Atomic Lighter is simply charged via USB cable, which I think is a better solution for most people.
As with other Atomic brand products, the commercial demonstrates the durability of this product by running it over with a truck. I have little doubt that durability won't be a problem for Atomic Lighter, but to be fair I doubt a standard metal lighter would fail such a test, either.
Sponsored Links
You can get about 100 lights per charge, although this will be affected by how long you keep the plasma arc lit each time. Keep in mind that the area in which the plasma arc exists isn't particularly large, so it may take some getting used to as compared to a regular lighter with an open flame. For example, the commercial states that you can light a cigar using Atomic Lighter, but its open arc is not as large as the end of a cigar, which means you'll have to move it around to fully light the tip.
I have mixed feelings about Atomic Lighter. Some things I do like about it, like the fact that its rechargeable and durable (I ran over it with my car and it was barely affected). It's good for starting fires, too. I did find, however, that the tips clog easily. When I had a cigarette smoker try it on a full charge, it stopped working. I had to go home and clean it and recharge it, so I'm not sure why the power was so quickly exhausted, unless somehow being clogged made it dispense its energy.
I wish the lid would flip back more, as it often seemed to be in the way. This is compounded by the fact that you have to hold the lighter so close to the objects that you want to light. Atomic Lighter may be more expensive than regular lighters up front, but not having to worry about replacements or refills could make this worth the investment in the long run, depending on how you use it. If you're a cigarette smoker, you may want to think twice before using this. It gets clogged and dirty when lighting up, and you may find yourself having to clean your lighter after every cigarette.
Alternatives
If the idea behind Atomic Lighter seems new to you, it may come as a surprise that arc lighters are actually quite common. This Tesla Coil Lighter, for example, costs about $14 and holds a solid 4.1 star rating among about 2,000 customer ratings.
Video Review
Below is my full review of Atomic Lighter, in a double review with Ever Light.
Your Atomic Lighter Reviews
What are your thoughts about Atomic Lighter? Drop a comment below and a star rating above to let us know what you think about it.
Updated September 2017.