Atomic Power Cord is a sturdy and flexible high-speed charging cable. Does it really work? Here is my Atomic Power Cord review.
Sponsored Links
About Atomic Power Cord
Atomic Power Cord is a phone and tablet charging cable that is wrapped in a coiled steel casing with welded connector ends. The official product website is atomicpowercord.com, which was registered in September 2017. The screenshot below shows how the product website looked in October 2017.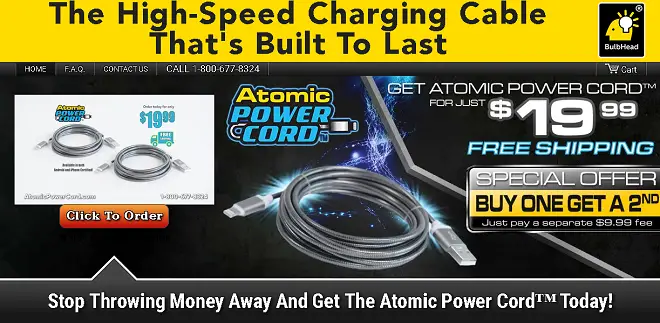 Claims & Features
Charges cellphones and other devices
Cable is wrapped in industrial metal casing
Pliable coiled construction
Connector ends are welded to stop tearing and breaking
9 foot length
Includes a lifetime guarantee
Cost
Atomic Power Cord costs $19.99. There is an optional double offer for $29.98. Shipping is free on both offers. Additional options include compatibility with either iPhone or Android. At the time of this writing, Atomic Power Cord is not available in stores.
Sponsored Links
Atomic Power Cord Review
You've probably seen commercials for Atomic Beam, Atomic Beam Lantern, Atomic Lighter, or other "Atomic" products that have been marketed and test marketed over the last year. The brand advertises products that are durable, can withstand a beating, and are built to last. Now we have Atomic Power Cord, a 9-foot metal USB cable in a steel casing that will eliminate breaks and splinters that often accompany these types of cables.
In early 2017, the lawn and garden category within the As Seen on TV genre was inundated by steel hoses, such as Metal Garden Hose, Hercules Hose, and Bionic Steel Hose. These metal hoses were said to be tough and tangle-free. Now with Atomic Power Cord we seem to have the USB version of these hoses, touted as strong and tangle-free.
There isn't much to using Atomic Power Cord, other than plugging it in like you normally would. The advertised feature of Atomic Power Cord isn't its function, but its durability. What is nice about a metal cable is that, besides lasting longer than a standard cable, it also resists tangling. The 9-foot length is also a nice touch, and should be an ample size for the vast majority of consumers.
Atomic Power Cord is available for iPhone/iPad or Android for $20 for one, or $30 for two. That puts it in a higher cost range than other metal charging cables on the market, which I'll discuss below.
Based on its September 2017 website registration date, it is my assumption that Atomic Power Cord is probably a test marketed item. This means that shipping could take weeks, and there is also a chance the product may never make it to store shelves. I'll update this space as more information becomes available.
Alternatives
A cursory search for metal USB charging cables will yield several results. This $10 Apple-compatible model has over 1,000 (mostly positive) reviews, while this $9 Android offering boasts a solid 4.4 star raging among over 600 ratings.
Your Atomic Power Cord Reviews
Have you used Atomic Power Cord or something like it? Leave a comment below and a star rating above to let us know your thoughts.