BackSeat Butler is a multi-purpose hanger that organizes clothes and other items in your car. Read our BackSeat Butler review.
Sponsored Links
About BackSeat Butler
BackSeat Butler is an organizer that allows you to hang bags or clothes behind the fronts seats of your car. The official product website is backseatbutler.com, with a registration date of June 2016. Below is a screen shot of the official website taken in November 2016.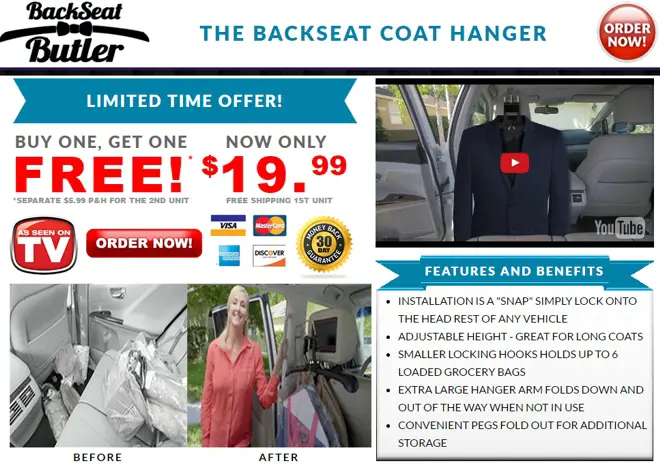 Claims & Features
Easily locks to head rest of any vehicle
Adjustable height
Smaller hooks can hold up to 6 loaded grocery bags
Large hanger arm folds down when not in use
Pegs fold out for additional storage
Cost
BackSeat Butler costs $19.99 + free P&H + $5.99 for a second unit. You can't opt out of this second unit, meaning your final purchase price will be $25.98 for two.
Sponsored Links
As of this writing, BackSeat Butler is not available in stores.
BackSeat Butler Review
BackSeat Butler is a clothes hanger and organizer for your car. It features an adjustable hanger that attaches to the back of a front seat head rest. You can use it to hang a coat, or hold regular clothes hangers on a provided hook. Smaller hooks and pegs are also included that can hold other items such as grocery bags.
It is clear that the makers of BackSeat Butler have read reviews of similar items and incorporated features not found in other car organizers. The primary use of BackSeat Butler is to allow you to hang a coat or other clothing behind your seat, which is a better place to hang items within your car. Hanging them over a rear passenger window can potentially create a blind spot while driving. Additionally, the ability to hang a few grocery bags or other items is also a nice touch. This prevents them from falling over while moving, which can also be a distraction to the driver.
If you have passengers in the back seat, it may not be feasible to hang clothing or groceries from a front head rest, but otherwise we feel the the design is generally solid.
Overall, we think BackSeat Butler is a competent and well-conceived idea, and we are confident that most consumers who purchase it will believe it to be a fine product. Although there are other products on the market which look and perform similarly (see below), BackSeat Butler offers enough options to make this a worthy choice.
Keep in mind that BackSeat Butler is a relatively new item, meaning that consumer reviews are scant, and shipping could be slower than you may expect with more established products. When we get more information on BackSeat Butler, we'll update this space.
Alternatives
You may be surprised to learn that there are a number of head rest hangers already on the market. A similar item to BackSeat Butler, for example, is this $15 Headrest Hanger and Organizer.
Television Commercial
Your BackSeat Butler Reviews
Have you used BackSeat Butler? Give us your thoughts by leaving a comment below and a star rating above.