Backzuki is an acupressure mat that temporarily relieves back, shoulder, and neck pain. Does it work? Read our Backzuki review.
Sponsored Links
About Backzuki
Backzuki is a pain relieving acupressure mat that can be laid upon or placed upright on a chair or seat. The product website is backzuki.com, which was first registered in February 2017. The screen shot below shows how the product website looked in April 2017.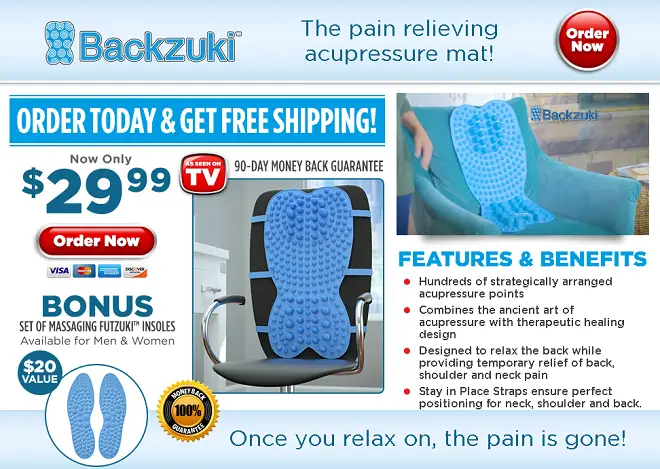 Claims & Features
Scores of critically arranged pressure points
Combines healing design with acupressure
Constructed to ease the back and provide temporary pain relief to the neck & shoulders
Stay-in-place straps provide ideal positioning
Cost
Backzuki costs $29.99 + $2.00 web servicing fee for a total of $31.99. Shipping is free. There is an optional deluxe version that is made of higher grade plastic and offers superior massage penetration.  The deluxe option adds $10.00 to the total ($41.99). All Backzuki orders comes with a stay-in-place straps and a pair of bonus massaging Futzuki insoles.
Sponsored Links
As of this writing, this offer is not available in stores.
Backzuki Review
When I first ran across the word "Backzuki" I knew immediately this was a followup to Footzuki, a product I reviewed here and on YouTube. While Footzuki is an acupressure pad for your feet, Backzuki is a similar pad for your back.
The idea behind both products is quite similar, with thousands of pressure points designed to provide pain relief and comfort. The thousands of acupressure points are not uniform in size, which gives certain areas more pressure than others.
My primary complaint with Footzuki was that the pressure points were extremely uncomfortable while using barefoot, which is how it is primarily advertised. With socks, it was much more bearable.
That problem does not seem to be present with Backzuki, only because you're not supposed to use it without a layer of clothing.
I'm not sure a mat like this will be a miracle cure for back and shoulder pain, but it will provide a slight massage sensation when you use it.
I'd suggest using it with a chair first to see if the pressure points are bearable to your sensitivity. If so, you may want to try using it laying down in order to achieve maximum benefit. Not everyone will like the pressure points while laying down, but that will put the most resistance against the unit.
Overall, I think Backzuki may be a bit better conceived than Futzuki, at least in the advertising, because it is not promoted as something to be used against bare skin. Not everyone believes an acupressure pad like this will do much good. If you are one of those people, I'm not sure Backzuki will change your opinion. If, however, you are keen on the idea of an acupressure mat, Backzuki will probably suit your needs.
Alternatives
There are, of course, numerous acupressure mats available. This Nayoya acupressure mat and pillow set is a #1 Best Seller, with an impressive rating among thousands of consumers.
You may be interested in my Footzuki review, which uses the same materials and pressure pads as Backzuki.
Your Backzuki Reviews
What do you think of Backzuki? Tell us what you think by leaving a comment below and a star rating above.