Bacon Wave is a product designed to create flat, crispy bacon in the microwave. Does it work? Here is my Bacon Wave review.
Sponsored Links
Where to Purchase
You can pick up Bacon Wave from Amazon for about $13. Bacon Wave has been widely available in stores for years for about $10-$15.
About Bacon Wave
Bacon Wave is a long-advertised bacon cooker that allows you to make up to 14 strips of bacon at once. The official product website was buybaconwave.com, which was first registered back in January 2013 was active until at least 2017. By this 2020 update, it is no longer online.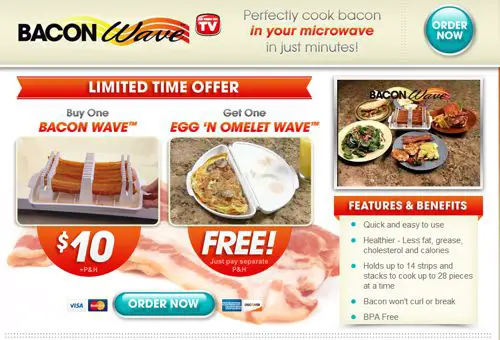 Claims and Features
Healthier – Less fat, grease, cholesterol and calories
Holds up to 14 strips and stacks to cook up to 28 pieces at a time
Bacon won't curl or break
Cooks in minutes
BPA Free
Available in stores
My Bacon Wave Review
The television commercial for Bacon Wave advertises the product as a way to create healthier bacon in the microwave in just minutes. Bacon Wave works by placing strips of bacon in rows, and a skewer is inserted to hold it in place. As it cooks, the bacon shrinks, but the skewers hold it in place, leading to a flat piece of cooked bacon. Additionally, fat drips off of the bacon and is collected below. Once bacon is done cooking, you lift it off of the unit by the skewers, and pull the skewers out.
I was fortunate enough to try out a Bacon Wave that my sister bought years ago but never used. From what I can tell, newer models are virtually unchanged from the one I tried. I started off, as the instructions suggest, by cooking five pieces in order to test out the unit and cook times for my microwave. The first test took about 4 minutes and the bacon was crispy, flat, and less greasy than pan-fried bacon. After that, I loaded the unit up with 14 pieces of bacon. It took just under 10 minutes to cook all of them to a crispy, flat state. The consensus in my household is that the bacon had a good flavor and texture.
Washing the unit can be done by hand or in a dishwasher, and both have advantages and disadvantages. Cleaning by hand is the safest for the unit, but can be difficult because grease can accumulate in the slats, and this is not an easy area to reach. I found a brush to be more effective than a sponge for that. In the dishwasher, you'll get the unit cleaner, but it is more apt to warping.
Sponsored Links
I was worried about splatter, which was present but not severe. Some grease did splatter in the microwave, but it was less than I expected and easy to wipe off with a sponge. Covering it with a paper towel will probably solve that problem.
There are other potential "cons" to using Bacon Wave. Some users have said that it melts or warps with only a few uses. I actually found that it warped in the dishwasher, but not in the microwave. The instructions account for this, and state that warping is normal and it will "un-warp" the next time it is used in the microwave. I don't find the warping to negatively affect the performance.
Overall, I think Bacon Wave is one of the better As Seen on TV products out there, despite being a rather simple plastic device. It seems better than a traditional bacon tray because the bacon doesn't sit in its own grease, and because the skewers ensure a flat piece of bacon in the end. Its high ratings online and longevity seem to indicate that I'm not alone in my assessment.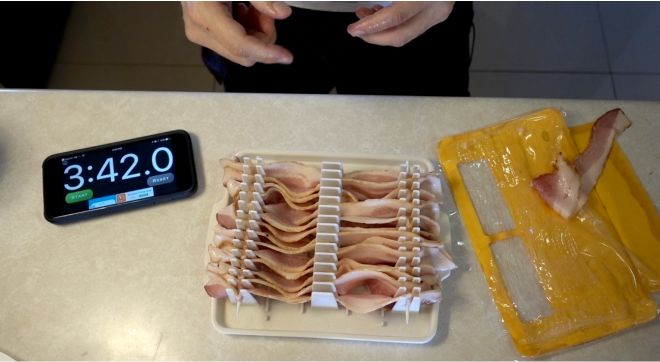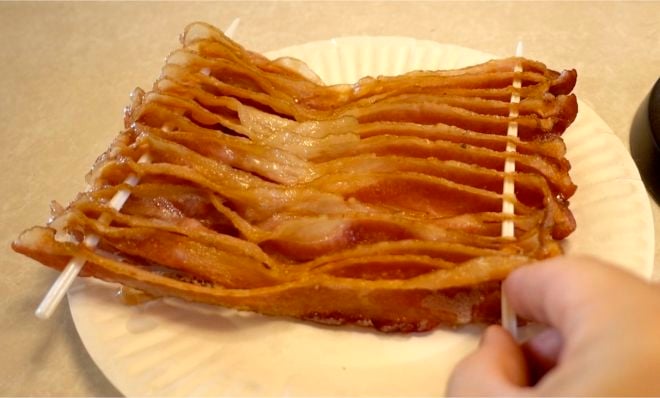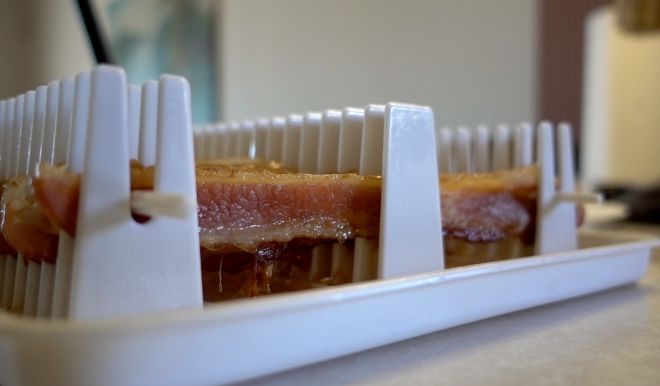 Alternatives
Traditional bacon trays like this one have been a mainstay of microwave bacon cooking for years. You may also want to check out this popular alternative, which delivers a similar result to Bacon Wave. If you're still on the fence, check out some additional comments for Bacon Wave to see what other consumers say about it.
Video Review
Below is my full video review of Bacon Wave. Below that is my 2020 review of another interesting bacon cooker, the WowBacon (written review here).
Bacon Wave Reviews
Have you tried Bacon Wave? Tell me what you think in the comments below.
Updated July 2020.