Bag-O-Nizer is a sliding storage system that organizes storage bags to create more shelf space. Does it work as advertised? Here is our Bag-O-Nizer review.
Sponsored Links
About Bag-O-Nizer
Bag-O-Nizer is a sliding storage system that attaches to shelves and provides a series of lock in bag hangers. The official website is buybagonizer.com, with a registration date of September 2016. The screen capture below was taken of the product website in June 2017.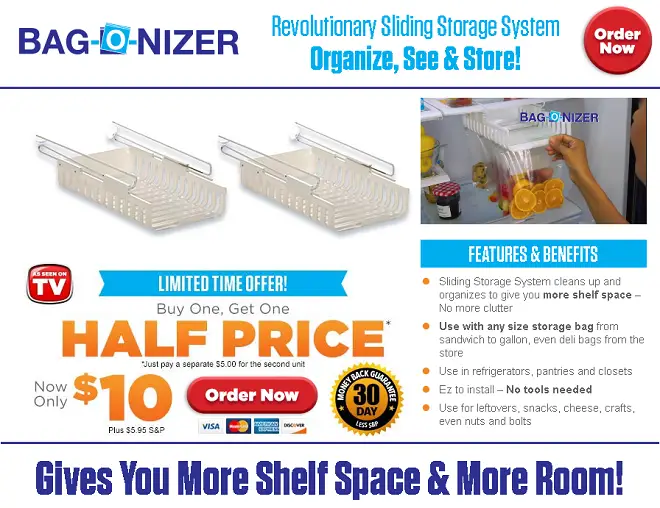 Claims & Features
Create more shelf space with the sliding storage system
Compatible with all storage bag sizes
Use in refrigerator, pantry, or closet
Simple installation (does not require tools)
Convenient for leftovers or storing nuts & bolts
Cost
There is a mandatory double offer when ordering Bag-O-Nizer. It costs $10 + $5 separate charge for the second unit + $2 web surcharge fee + $5.95 shipping for a total of $22.95. At the time of this writing, Bag-O-Nizer is not available in stores.
Bag-O-Nizer Review
If you've seen the commercial for Bag-O-Nizer, it may seem like an organizer's dream. It is a sliding storage system for cabinets or refrigerators which allows you to hang storage bags almost like you would hang clothes in a closet. Rather than laying storage bags flat, Bag-O-Nizer provides a way to neatly hang and organize anything in a plastic bag.
Sponsored Links
Installation is rather simple. There is a pair of plastic rods which run parallel to the top of the unit, each with a suction cup that is used to press down onto the shelf from which it hangs. It should be compatible with most shelves, and needs about a 1-inch thickness in order to install properly. Once installed, you can hang up to 12 bags from the unit, which can be slid in or out like a drawer when you need to access anything it holds.
My first concern was that it required special bags, which it doesn't. You should be able to use any zipper-type bag, although non-zipper folding sandwich bags will not work. Many bagged cheeses will also work, provided they have a zipper.
While you shouldn't expect this to be of the highest quality construction, it will probably be sufficient for most uses. I wouldn't put especially large or heavy items in it, but lighter objects such as cheese or veggies should hold up quite well.
Perhaps the biggest question I have is whether Bag-O-Nizer actually saves any space. I would say that in the case of a refrigerator, it takes up more room, not less. It is, however, a better way to organize your bags. Thus, if you want this to save space, you may want to look closely at the commercial and consider the space it will take up in the location you want to install it. If you want it purely for organization, this is probably a perfect fit for you.
As of this writing, Bag-O-Nizer is a new item that is probably being test marketed. I hope it does eventually land in stores, because it is a pretty nifty product. I don't think most people would want two of them, and the current mandatory double offer requires you to buy two units. Thus, I'd rather wait and pay $10 for one unit in a local store than pay $23 for two of them and wait weeks for them to arrive.
Alternatives
Bag-O-Nizer appears to be the As Seen on TV version of a product called Zip N Store, which looks and functions about the same. That item was crowdfunded into existence, and sports a higher quality construction such as metal rails. It is, however, a bit more complex to install than Bag O Nizer. The add-on bag filler also can be found in nearly identical products such as this Jokari hands-free storage holder, which runs about $8.
Your Bag-O-Nizer Reviews
What are your thoughts about Bag-O-Nizer? Drop a comment below and a star rating above to let us know what you think about it.