Bandu is a chair-based exercise system.
Sponsored Links
About Bandu
Bandu is a simplified home-oriented gym system that can be installed onto any chair.
The product website is buybandu.com, which was registered in April 2015. The screen capture below shows the official website in September 2015.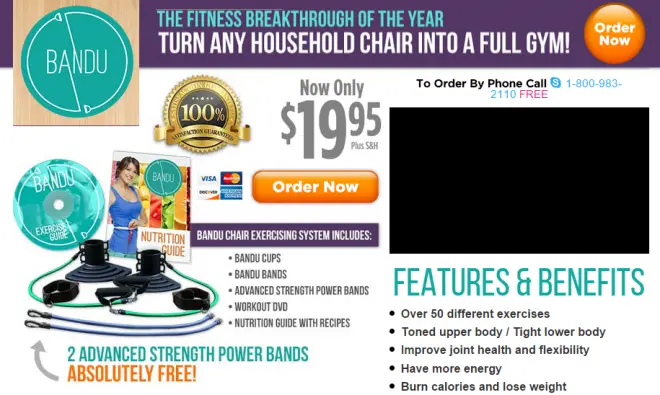 Sponsored Links
What They Claim
Over 50 different exercises
Upper and lower body workouts
Have more energy
Burn calories and lose weight
Simple to use
Bandu Cost
$19.99 + $7.99 S&H
Reviews
Bandu is a simple device which uses resistance band technology. Where it differs from traditional resistance bands is that the two included bands are attached to feet which slip over the bottom of a chair. The addition of these "Bandu Cups" allows the user to engage in a higher number of exercises than typically afforded by regular resistance bands. With Bandu, you can exercise while seated or while standing.
One item that isn't highlighted in the commercial below is that weight must be placed on the chair or the Bandu in order to keep the chair from moving. The makers have apparently thought of this, and created a small section which protrudes out from the device, allowing users to stand on the Bandu in order to keep the chair in place.
Bandu, and any resistance band for that matter, won't allow users to bulk up, but it does provide enough resistance for basic muscle toning. It is also portable enough to put away or take on the road rather easily.
With everything included, Bandu appears to be a pretty good deal for under $30. If and when it becomes available in stores, an expected price tag of around $20 would be even more palatable.
Your Bandu Reviews
Let us know what you think of Bandu by leaving a comment below and a star rating above.