Battle Balloons Slime is a slime-filled fast-fill balloons set. Does it work? Read our Battle Balloons Slime review.
Sponsored Links
About Battle Balloons Slime
Battle Balloons Slime is a set of balloons which automatically fill with slimy water. The official product website is battleballoonsslime.com, which was registered in February 2016. You can see a screenshot below of the official website taken in September 2016.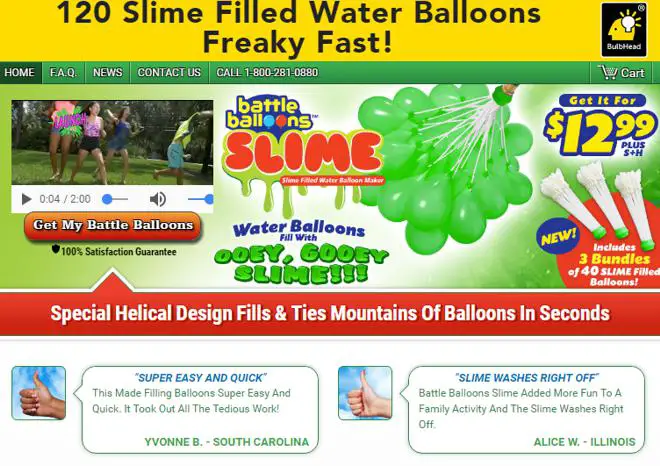 Claims & Features
40 slime-filled water balloons filled and tied at once
Transforms water into slime
Connect to a hose, fill 40 balloons, and release
Slime easily rinses off with water
Cost
You can get a triple pack of Battle Balloons Slime for $12.99 + $5.99 shipping. There is a double offer of six packs for $25.95 + $5.99 shipping.
As of this writing, Battle Balloons Slime is not available in stores.
Sponsored Links
Battle Balloons Slime Review
Note: This is a new product, and we have yet to see it first-hand.
The current generation of fast-fill balloons began in mid-2014 when a couple of products in this category appeared, the most prominent being Bunch O Balloons.
Always ready to jump on the bandwagon, the As Seen on TV industry – most notably Telebrands – quickly began marketing its own version called Balloon Bonanza. A lawsuit ensued, but Balloon Bonanza re-appeared as Battle Balloons, which is generally regarded as a lower-quality knockoff of Bunch O Balloons.
Now we have Battle Balloons Slime, which is essentially the same Telebrands product with the addition of slime during the filling process.
Battle Balloons (and its earlier incarnation "Balloon Bonanza") was often compared to the original Bunch O Balloons as a knockoff which didn't perform quite as well as the original. Complaints that balloons didn't properly fill were common. When balloons are not properly filled, they do not pop as easily when thrown.
With the slime variant, it would appear that no new enhancements have been implemented into the filling mechanism, meaning the same problems that plagued the original may still be in place.
Little is said about the composition of the slime, except for the fact that it easily rinses off with water. Although that is good to know, there are other questions, such as: Can it stain clothing or other items? What happens when it hardens? Is it safe to use around pets?
You may want to wait until Battle Balloons Slime appears in stores so you can avoid shipping costs and delays. If the slime factor is not of interest to you, there are alternatives, shown below.
Alternatives
Zuru's Bunch O Balloons is the original – and the gold standard – in the fast-fill balloon category. That can be found readily online and in local stores.
A predecessor to these types of toys is a $5 product called Tie-Not, which allows you to fill and tie a balloon simultaneously.
Television Commercial
Your Battle Balloons Slime Reviews
Have you used Battle Balloons Slime? Let us know what you think by leaving a comment below and a star rating above.