Battle Vision is a pair of tactical HD sunglasses that enhance vision while blocking glare. Do they work as advertised? Here is our Battle Vision review.
Sponsored Links
About Battle Vision
Battle Vision are durable polarized sunglasses that improve clarity, brighten colors, and protect from UV rays. The official website is buybattlevision.com, with a registration date of October 2017. The screen capture below was taken of the product website in January 2018.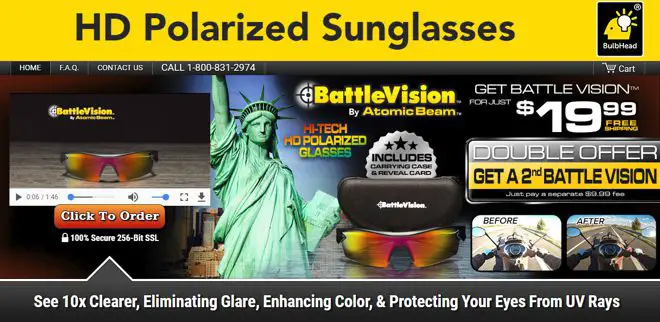 Below is a screenshot of this product when it was called Sniper Vision and was advertised heavily around September 2017. You can see that many of the website elements are similar, as well as the design of the product itself.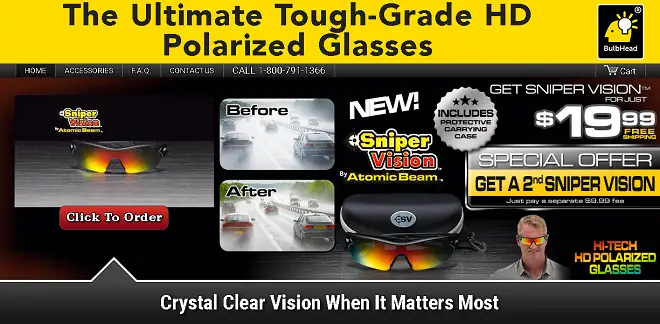 Claims & Features
Dims sunshine
Polarized lenses reduce glare
UV protection and color enhancement
Manufactured from flexible shape-memory polymer
Bright high definition optics
See 10x clearer
Cost
A pair of Battle Vision sunglasses costs $19.99 with free shipping. You can add a second unit for another $9.99. You can also upgrade to the "Deluxe Double" which includes a pair of Battle Vision sunglasses along with its "Night Vision" counterpart. Each unit comes with a protective carrying case. At the time of this writing, Battle Vision is not available in stores.
Battle Vision Review
As a self-described As Seen on TV hobbyist, I often find it humorous when competing As Seen on TV companies release nearly identical products at the same time. You've probably seen such competition with Gotham Steel Crisper Tray vs Copper Crisper, or Hurricane Spin Scrubber vs Turbo Scrub, or all of those copper pans (to name a few). In September 2017 a product called Sniper Vision was marketed, which at the time I described as the BulbHead response to a popular competitor called Tac Glasses.
It has been a long battle between the "Tac" brand by Emson, and the "Atomic" brand by Telebrands, aka BulbHead. Both feature military-inspired images in the advertising (sometimes to nearly laughable levels), an outdoorsy spokesman (Nick Bolton vs Hunter Ellis), and seem to release nearly identical products around the same time. Battle Vision is marketed as "by Atomic Beam" to tie into that brand, even though it doesn't use the word "Atomic" in the name.
Sponsored Links
By late 2017 it appeared that Tac Glasses had won the battle as it continued to soar in popularity while Sniper Vision disappeared. Now, however, we have what appears to be the second incarnation of Sniper Vision, re-branded as Battle Vision. Can it win the battle over Tac Glasses in Round 2?
The advertised benefit of Battle Vision is that it "helps you see objects you can't see with the naked eye."  This is achieved with polarized lenses which help reduce glare, enhance colors, and provide UV protection. Unlike Tac Glasses, the makers of Battle Vision also indicate that the frames are tough and can be bent without concern for breaking them.
The commercial features a sort of parlor trick in which a picture of the Statue of Liberty can be seen with Battle Vision, but not regular sunglasses. The same trick was also featured in the ads for Tac Glasses, but using an eagle. It's a trick that will work with any set of polarized sunglasses and isn't really representative of how well they perform in everyday use.
As with Tac Glasses, I think those who buy Battle Vision will probably find them to be an adequate pair of polarized UV sunglasses. I'm not sure they will stand out above other polarized UV sunglasses, but they should help reduce glare and enhance colors as advertised. Regarding the military images shown in the advertising for these and Tac Glasses, one commenter on YouTube summed it up this way: "As former military and now proud veteran, I don't see how these are military-inspired or tactical. They are a run of mill sunglasses for the civilian population but not 'tactical' in none of the sense."
In short, while I find no fault with Battle Vision, you can easily walk into any Walmart and find inexpensive UV/polarized sunglasses which perform on par with Battle Vision and Tac Glasses. And that can be done without waiting weeks for them to arrive in the mail.
One final point to consider is the shape and design. Even though you'll likely find these to be a fine pair of sunglasses, I'm not sure everyone will like the way they look. The reflective rainbow design may not be stylish to everyone. The problem with ordering sunglasses without trying them on first is that you have to pay and wait for it to ship before you even know if you like the way they look on your face.
Watch my full review of Battle Vision below.
Alternatives
There are a numerous  "tactical" sunglasses sold in stores and online. This pair of COSVER polarized sunglasses is pretty close in design and function to Battle Vision, and also costs about $20 with Amazon Prime shipping. This model by Torege has even higher ratings with a price of about $22, and offers five interchangeable lenses for various situations.
Related Review
You may be interested in my video review of Tac Glasses, which are very similar to Battle Vision.
Your Battle Vision Reviews
What are your thoughts about Battle Vision? Drop a comment below and a star rating above to let us know what you think about it.
Updated February 2018.