Bavarian Edge is an innovative knife sharpener featuring independent spring action arms. Does it work as advertised? Here is our Bavarian Edge review.
Sponsored Links
About Bavarian Edge
Bavarian Edge is an inexpensive knife sharpener with dual spring action arms made of sturdy, yet flexible, Tungsten Carbide. The official website is bavarianedge.com, with a registration date of May 2017. The screen capture below was taken of the product website in June 2017.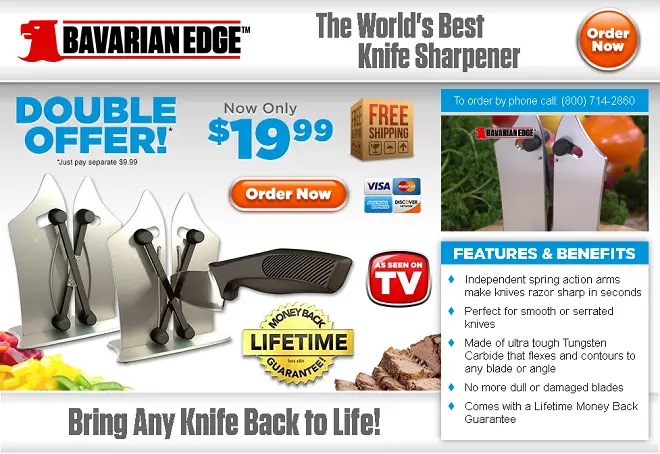 Claims & Features
Quickly sharpen knives with the independent spring action arms
Compatible with smooth or serrated knives
Manufactured from durable & pliable Tungsten Carbide
Hone dull or damaged blades
Lifetime money back guarantee
Cost
Bavarian Edge costs $19.99. Shipping is free. There is an optional double offer for a separate fee of $9.99 which  raises the total to $29.98. As of this February 2018 update, you can now find Bavarian Edge in stores for about $20.
Bavarian Edge Review
There is just something about knives and infomercials that seem to be a match made in heaven. I suppose that love affair dates back to the Ginsu Knife commercials of the 1970s, but it's a category of As Seen on TV products that marketers and consumers alike seem to covet. Today I'm taking a look at Bavarian Edge, a spring-action knife sharpener that "flexes and contours to any blade or angle for the perfect razor sharp edge in an instant!"
Sponsored Links
There is not much to using Bavarian Edge besides simply swiping your blade between the Tungsten Carbide sharpeners a few times. The motion you use is not unlike that of regular sharpeners, although these twin sharpeners move and flex with the blade. Because it moves and adjusts with your motion, it is more forgiving as to what angle you insert your blade. To me, one of the greatest benefits is the ability to sharpen serrated knives, although you have to be careful to hold the knife at the proper angle while sharpening.
I should point out that I'm using the word "sharpener" as they do in the advertising, although my friend Richard Kline from the House of Cutlerly (as you can see in the video below) points out this is actually a honing device and not an actual sharpener.
Perhaps the only potential negative is that smaller, thinner blades may be harder to sharpen near the handle. Other than that, I can find little fault with the product. It sports an attractive design and a rather useful function.
I would probably take some of the demonstrations in the commercial with a grain of salt. For example, I was able to duplicate the "credit card" trick by "sharpening" a credit card and cutting a tomato with it, but I'm not sure that demonstration translates into an effective knife sharpener for real-world uses. When I tried sharpening the other side of the credit card, it didn't work.
If the commercial is to be believed, you might expect a magical knife sharpener that could turn a potato into a precise chef's knife. In reality, however, you'll probably find it to be a decent honing device that works on blades that already have a decent edge. It should work about as well as other inexpensive honing devices.
After months of advertising and test marketing, I finally found Bavarian Edge in stores here in Las Vegas in February 2018. Below is my video, in which I asked two other YouTubers for their help in evaluating this product.
Alternatives
Although the design of Bavarian Edge may look unique, there are others like it on the market. This Brod & Taylor Classic Knife Sharpener also sports a very similar design with twin sharpeners. That item boasts an impressive 4.5 star rating among consumers online. The commercial compares the price of Bavarian Edge against this $124 electric knife sharpener, which is considerably more expensive, but also very highly rated.
Your Bavarian Edge Reviews
What are your thoughts about Bavarian Edge? Drop a comment below and a star rating above to let us know what you think about it.