BeAligned is a knee support pillow which helps relieve back pain.
Sponsored Links
About BeAligned
BeAligned is an As Seen on TV product which helps align your spine while you sleep.
The product website is trybealigned.com, which was registered in June 2015. The screen capture below shows the official website in September 2015.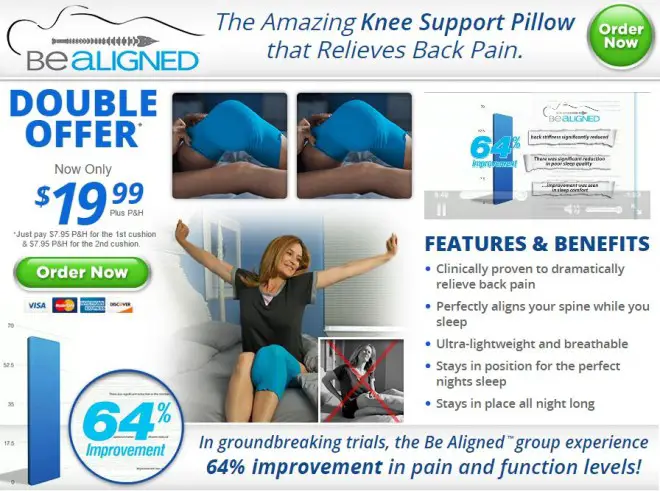 Sponsored Links
What They Claim
Proven to help eliminate back pain
Aligns spine while you sleep
Lightweight and breathable
Stays stationary as you sleep
BeAligned Cost
$19.99 + $7.95 shipping. A second unit is required for another $7.95 shipping, bringing your total to $35.89.
Reviews
BeAligned is a knee pillow that allows you to rest on your side more comfortably in order to relieve back pain. It appears to be related to the popular BeActive Brace which hit the airwaves over the past year. It is said to work by elevating the leg to the "critical angle" which will align the spine and reduce back pain.
It would appear that those who sleep in the fetal position are likely to benefit from the design of BeAligned.
There are, however, a variety of sleep positions some of which don't seem like they would benefit from such a product. A 2003 study found that there are 6 popular sleep positions by most people, with the fetal position being the most popular at over 40%.
If you sleep in the fetal position and have back problems, BeAligned may be a great option.
Your BeAligned Reviews
Let us know what you think of BeAligned by leaving a comment below and a star rating above.