Beauty Bright is a LED vanity light that can be attached to a mirror in order to apply cosmetics. Does it really work? Here is my Beauty Bright review.
Sponsored Links
About Beauty Bright
Beauty Bright is a narrow light stick that contains over 60 TrueLight LEDs that mimic natural sunlight. Suction cups can be attached to the light so that it can be stuck to a mirrored surface at the desired height for makeup application. The official product website is buybeautybright.com, which was registered in December 2016. The screenshot below shows how the product website looked in November 2017.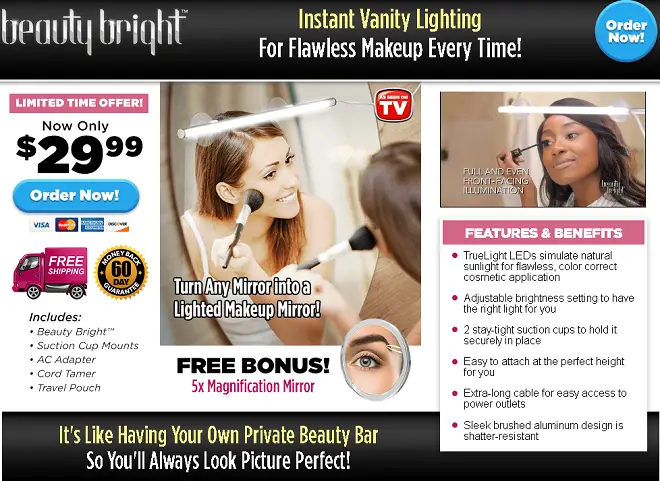 Claims & Features
LEDs simulate natural sunlight and provide proper lighting for cosmetic application
Brightness setting can be adjusted
Suction cups hold light firmly in place
Simple to use
Extra-long power cable
Shatter resistant
Cost
Beauty Bright costs $29.99. Shipping is free. Each unit comes with 2 suction cup mounts, AC adapter, cord tamer, travel pouch, and a 5x magnification mirror. At the time of this writing, Beauty Bright is not available in stores.
Sponsored Links
Beauty Bright Review
If you have struggled to put on makeup in a properly-lit bathroom, the makers of Beauty Bright may have just the item for you. This is a stick-on LED light bar that is designed for use when applying makeup. To use Beauty Bright, you simply plug it in, attach the two included suction cups, and place in the desired location. Most of the examples shown are that of a bathroom mirror or vanity where women are applying makeup.
It's a rather simple idea consisting of a light bar and suction cups, and I'm glad they went with an AC adapter instead of using batteries like so many other As Seen on TV products. I have seen quite a few stick-on lights in the As Seen on TV genre, but most of them use batteries, so that feature alone sets this apart from the rest. The LED lights included in Beauty Bright are designed to simulate natural sunlight which should help you see and apply makeup more precisely.
While I have no doubt that this will work about as shown, the only real issue I have with Beauty Bright is the price. $30 for a light bar seems excessive, even with free shipping. This seems more like a $15-$20 item, and I wouldn't be surprised if the price eventually changes. Additionally, even though the website for this product has been around since late 2016, I believe this might be a test marketed item, which means the name, price, and design could still change. It also usually means shipping is slower than more established items. You may want to check out my video below regarding As Seen on TV test marketing.
I'll continue to watch Beauty Bright and will update this space if anything changes.
Alternatives
Beauty Light reminds me of Underlight, which differs primarily in the type of lights and the fact that it uses batteries. You can find my review of that in the playlist below. For the same price as Beauty Light, you can get this highly rated set of six Hollywood Vanity Lights that also stick on your mirror.
You may want to peruse some of the videos in the playlist below, which includes all of the "lighted" As Seen on TV products I have reviewed for my YouTube channel.
Your Beauty Bright Reviews
Have you used Beauty Bright? Leave a comment below and a star rating above to let us know your thoughts.