Bed Renu is a customized sleep support system which helps alleviate saggy mattresses.
Sponsored Links
About Bed Renu
Bed Renu is a product which restores older mattresses into mattresses of better shape and fits to your unique shape and posture.
Sponsored Links
What They Claim
Restores old mattresses to like-new
Custom fitting to your mattress to fit your body shape
Removes pressure points to improve comfort
Save loads of money
Quick and easy to use
Guaranteed to correct and customize your mattress
Made in the USA
Bed Renu Cost
$29.99 + $7.99 processing & handling, second one half off, at $14.98 + another $7.99; can opt out of second
Reviews
By the name and claims alone, one may think that Bed Renu is simply another padded mattress cover, as those products tend to make the same claims.
Bed Renu, however sports a unique design in which the item is placed between the bed and box springs. It is then inflated via the hand pump, lifting the mattress in areas which sag the most. It is a rather ingenious invention and at under $40 is not a bad investment.
The product website is bedrenu.com , which was registered in June 2015. The screen capture below shows the official website in August 2015.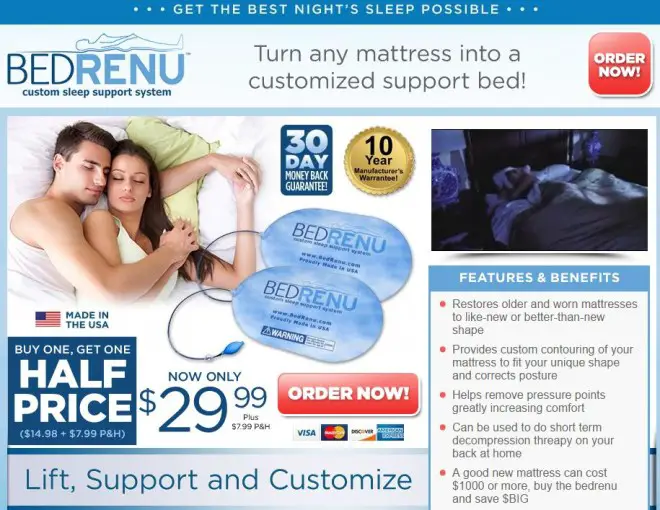 It's not clear how long-term of a solution Bed Renu is, but it definitely provides a little lift in the areas which need it most, and for that we give the product a thumb's up.
Your Bed Renu Reviews
Let us know what you think of Bed Renu by leaving a comment below and a star rating above.