Bell & Howell Disk Lights Review: Solar Outdoor Lights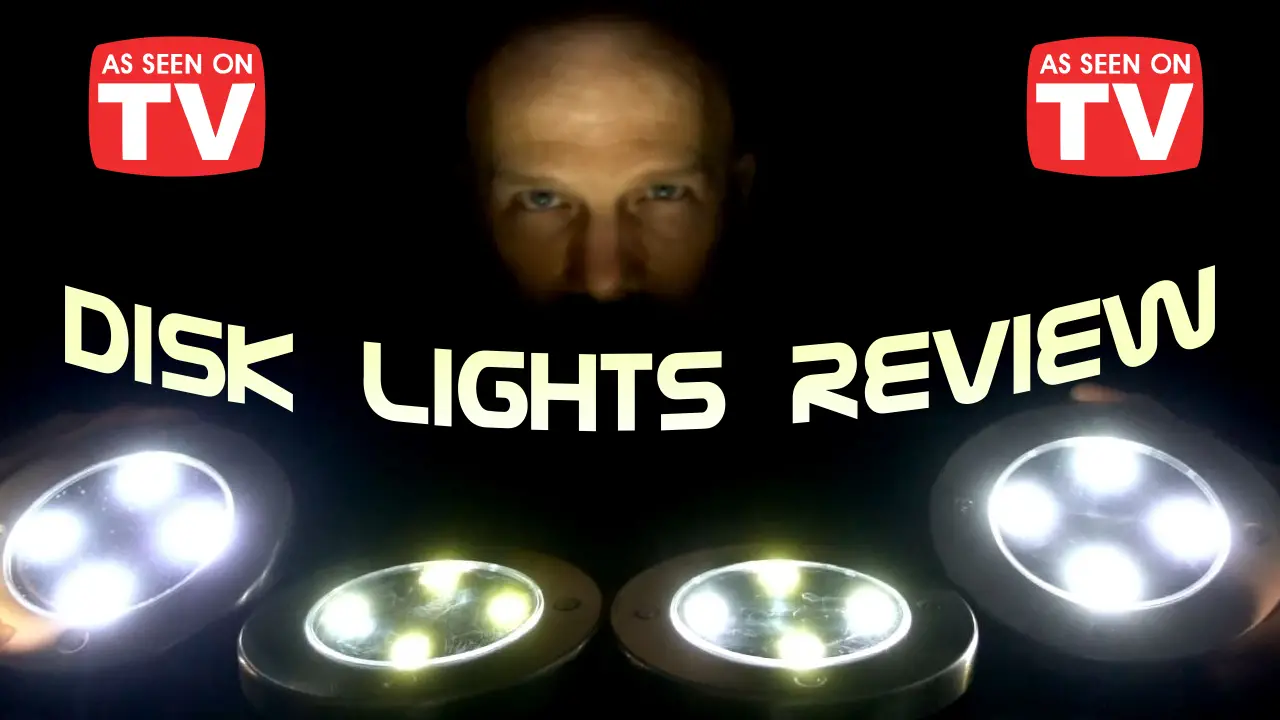 Bell & Howell Disk Lights are circular solar-powered LEDs that can be used for outdoor lighting. Do they really work? Here is my Bell & Howell Disk Lights review.
Sponsored Links
About Bell & Howell Disk Lights
Bell & Howell Disk Lights are circular solar power LEDs that can be used for outdoor ambiance or accent lighting. The official product website is disklights.com, which was registered in October 2017. The screenshot below shows how the product website looked in January 2018.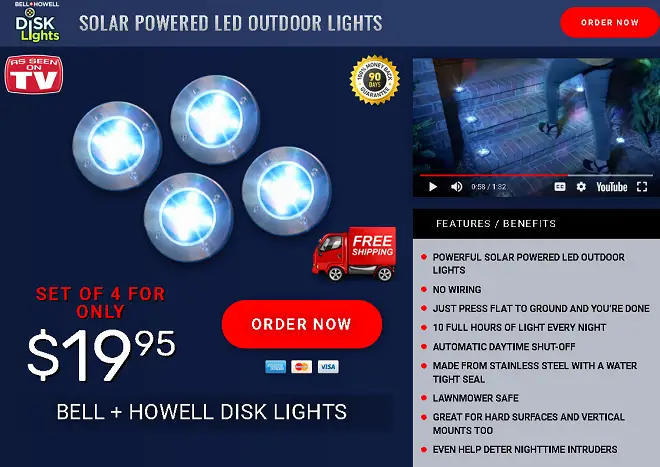 Claims & Features
Outdoor solar powered LEDs
No wiring required
Simply push them flat onto the ground
Provides 10 hours of lighting
Automatically turns off when it senses daylight
Weatherproof stainless steel housing
Safe to use with lawnmower
Ideal for hard surfaces and vertical mounting
Discourages trespassers
Cost
A set of four Bell & Howell Disk Lights costs $19.95. Shipping is free. I found Bell & Howell Disk Lights at a local Bed Bath & Beyond for about $20, and used a 20% coupon to drop the cost down to $17.
Bell & Howell Disk Lights Review
As someone who likes to add solar-powered accent lighting to my yard, this As Seen on TV offering certainly caught my attention. The Bell+Howell Disk Lights are round flat disks that contain a solar cell that charge all day and stay lit all night. There is an included stake that allows you to press it into the ground to achieve accent lighting anywhere in your yard. You can also remove the stake from the light and lay it flat or use an adhesive backing to hang it vertically.
When I first opened the packaging, I found there was no mention of vertical mounting in the instructions, nor was anything included to let you mount it vertically. The commercial seems to indicate that it can be hung vertically with hook and loop adhesives, but that is not mentioned or included.
You have no doubt seen numerous lighted As Seen on TV products over the years, and I have even created an entire playlist of them on my YouTube channel (see below). My theory as to why this is such a popular category is that these types of devices are simple and inexpensive to make and usually work pretty well.
There isn't much to using Bell & Howell Disk Lights other than placing them in the desired location, letting them charge all day, and enjoying them at night. As with any solar light, placement can affect how efficiently they work. If they are in a shaded area, they may not sufficiently charge to stay on all night. Thus, hanging them in a gazebo, for example, may not expose them to enough sunlight to work properly. In a perfect scenario, they should face south when hanging up, and in direct sunlight when laying flat.
As you can see in the video below, I placed the four lights in different locations around my yard and each light stayed illuminated or a different amount of time, although I would say that their claims that it will last 10 hours is accurate.
Sponsored Links
Another important point worth mentioning is that the LED lights are said to last 10 years, but the battery that powers them certainly will not. Although this seems to be weatherproof, extreme temperatures could lessen the life of the battery. I ran a hose over one of the lights, and it was not affected, so I believe the claim that it is watertight is also correct.
Perhaps the biggest "con" to me is that they are not very bright. My cheap accent lighting lasted longer and shone brighter than these Disk Lights. What I like most is that they are stylish and can be placed almost anywhere with ease. I think this product will garner mostly positive ratings, and I would expect the batteries to last about a year in most climates, although I wouldn't expect much more beyond that.
You may have seen the Bell+Howell name used in As Seen on TV products in the past. That's because the name is often licensed to these manufacturers, not because Bell+Howell has suddenly started producing numerous As Seen on TV products. In other words, the only association Bell+Howell has with Disk Lights is by name only. I wouldn't let the Bell+Howell reputation influence your decision to buy or not to buy this product. That's not to say that As Seen on TV products sporting the Bell+Howell name are bad. In fact, I ranked the Bell+Howell Light Bar in my Top 10 Best As Seen on TV products for 2017.
Be sure to watch my full video review of Bell+Howell Disk Lights.
Alternatives
You may be surprised to learn that there are numerous lights just like this. Check out this 4-pack of similar solar lights that can be delivered for free via Amazon Prime and hold a solid consumer rating.
There is an entire category of As Seen on TV lighted products, and I've produced video reviews for many of them. The playlist below includes all of my reviews in this category, sorted by the most popular. Be sure to watch EverBrite, which is another solar-powered product. That item lasted about 13 months before the batteries no longer held a charge.
Television Commercial
Your Bell & Howell Disk Lights Reviews
Have you used Bell & Howell Disk Lights or something like it? Leave a comment below and a star rating above to let us know your thoughts.
Updated February 2018.