Bell & Howell Light Bar is a portable light bank that includes 60 LED lights. Does it work? Read my Bell & Howell Light Bar review.
Sponsored Links:
About Bell & Howell Light Bar
Bell & Howell Light Bar is a rechargeable bar of 60 LED lights that weighs one pound and includes a built-in stand. The official website is trylightbar.com, with a registration date of January 2017. The screen capture below was taken of the product website in May 2017.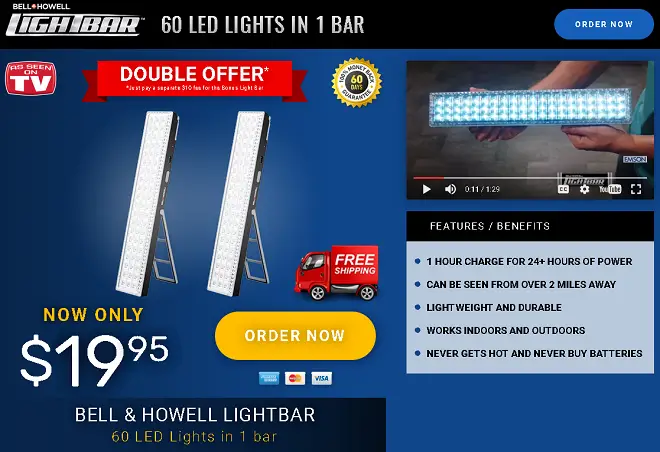 Claims & Features
1 hour of charging is equivalent to over 24 hours of power
Visible from over 2 miles away
Compact & sturdy
Usable for indoors or outdoors
Will not overheat
Does not require batteries
Cost
Light Bar costs $19.95 with free shipping. There is an optional double offer in which a bonus light can be added for an additional fee of $10.00 which would bring the total to $29.95. Light Bar isn't sold in stores as of this writing.
Sponsored Links:
Bell & Howell Light Bar Review
Convenient portable lights have been the darling of As Seen on TV marketers for years. In just recent years, such offerings have included InstaBulb, Click a Color, Light Bulb Bug Zapper, Bulb on a Rope, Underlight, BreezeLite, Motion Brite, Mighty Brite Switch, LyfeLite, ZappLight, Flexi Lites, and Switch Brite – to name a few.
Now with the Bell & Howell Light Bar, we have a strip of 60 bright LED lights that can be recharged in an hour and last all day. Based on the use of the Bell & Howell name, and the product's logo styling, it would appear that this item is loosely tucked under the same brand as TacLight.
The good news is that this is a pretty foolproof product. LED technology has become less in expensive in recent years, and it is easy to find rather affordable light products sporting impressive brightness like this.
Light Bar offers a rather unassuming rectangular design with two stands that allow you to prop it up or hang it on a wall. To me, this seems to be something of an evolution of the tactical lanterns that heavily advertised in late 2016, and are still widely available. The idea behind those – and Light Bar – is to provide instant bright light to the immediate area. While the lanterns (TacLight Lantern, Atomic Beam Lantern) offer 360 degrees of light, Light Bar offers it at about a 180 degree angle.
LED lights tend to offer an initial full brightness that slowly dims to a glow over time.
I have little doubt that those who purchase this based on the advertising will be satisfied with the product, as it's pretty hard to mess up a simple bar of LED lights. The fact that it is rechargeable is a huge plus.
On a final note, I suggest not giving the Bell & Howell name too much weight in your decision to purchase an As Seen on TV product. Nowadays the name is often licensed, and the products bearing the name rarely have any association with Bell & Howell other than the logo slapped on the case.
Light Bar is a new item, and is likely being test marketed. It has been my experience that test marketed products often change name, price, and design – or simply disappear if there is little interest. I'll update this space as I get additional information on the product.
Alternatives
It may come as no surprise that you can find a number of LED rechargeable light bars for sale online. This model by OxyLED costs about $15 and holds high consumer ratings.
Television Commercial

Your Bell & Howell Light Bar Reviews
What are your thoughts about Bell & Howell Light Bar? Drop a comment below and a star rating above to let us know what you think about it.