Best Pot Pie Maker is an As Seen on TV kitchen product which claims to create homemade pot pies in 15 minutes from start to finish. Here is our Best Pot Pit Maker review, plus other key information.
Sponsored Links
Television commercials for Best Pot Pie Maker feature "Chef Tony" who claims that this product can solve the problem of store-bought pot pies, which contain less than desirable fillings.
Pies are created using any store-bought dough. A layer of dough is placed in the Best Pot Pie, then fillings are added. Another layer of dough is added to seal the pie, which is then baked for 15 minutes.
Pies can be made from leftovers or a variety of ingredients, including desserts. It can be used in the oven or toaster oven.
Be careful when ordering! The order screen's drop-down box asks you how many sets you would like. One set is two pot pies, meaning you do not have the option to simply order one without also ordering their second one "free." Many consumers have selected two sets, mistakenly believing that they are ordering two units. These buyers are surprised when they find charges of over $50 on their credit card statements.
Sponsored Links
There are alternatives to Best Pot Pie Maker, as even a cursory Amazon search will show.
Official Website
bestpotpie.com
Registered: September 4, 2013
Contact
Phone: 855-721-3340
Email: [email protected]
Hours: Monday through Friday 8:00am and 10pm Eastern Time
What they claim
Easy to make, quick to bake
Use any store bought or homemade dough
15 minutes start to finish
Makes meal-sized pies
Bake in conventional or toaster oven
Non-stick silicone
Dishwasher safe
Not available in stores
Cost
10 plus $7.95 S&P = $17.95 (You do NOT have the option to order just one unit from the website!)
Get an additional 2-pie baking tray & lift & serve spatula for another $7.95
Grand total = $25.90
It does not appear that you can opt out of the second set when ordering online.
Screenshot
Below is a screenshot of the official website, taken in November 2013: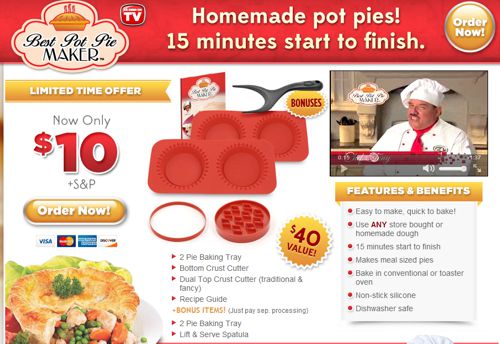 Television Commercial
Below is a television commercial for Best Pot Pie Maker:
Best Pot Pie Maker Reviews
Have you tried Best Pot Pie Maker? Please give us your review in the comments below and give it a star rating above.