Better Booty Pillow is a cushion designed to align your spine while keeping your bottom firm. Does it work? Read our Better Booty Pillow review.
Sponsored Links
About Better Booty Pillow
Better Booty Pillow is a cushion designed to provide all-day comfort while helping maintain posture and keeping your bottom taut. The official product website is betterbootypillow.com, with a registration date of Septeber 2016. Below is a screen shot of the official website taken in November 2016.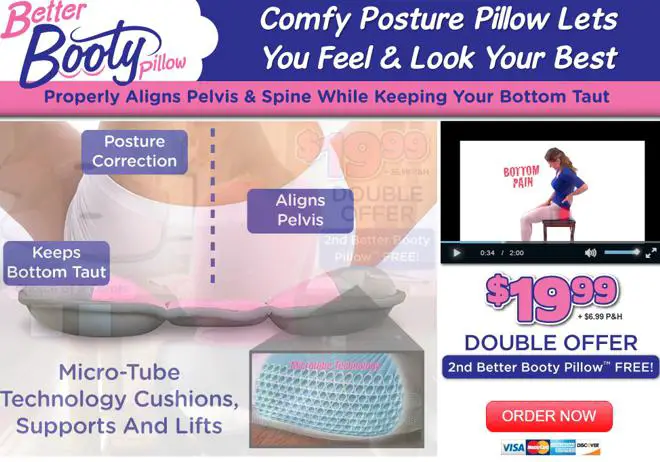 Sponsored Links
Claims & Features
Aligns hips and pelvis
Keeps bottom tight
Comfort and support all day long
Alleviates tail bone pressure
Ideal for home, office, or auto
Weatherproof and machine washable
Foam center
Availabe in pink/gray or blue/gray
Cost
Better Booty Pillow costs $19.99 plus $6.99 P&H. A second pillow is included for no additional charge. This brings your total to $26.98 for two pillows.
As of this writing, Better Booty Pillow isn't sold in stores.
Better Booty Pillow Review
While the typical posture pillow focuses its advertising on the benefits of pelvis alignment and optical sitting position, Better Booty Pillow throws in the benefit of a "taut bottom" for good measure.
This six-section cushion features a foam interior with two center pads, each flanked by two outer cushions. The outer rear pads are situated higher than the center, which provides support for your bottom. This contoured effect is not found in most flat pillows or cushions. An added benefit of this curved design is that it helps force you to sit straight in order to achieve the most comfort from the cushion.
Better Booty Pillow is segmented into 6 cushioned areas which create an ideal contour for your bottom and upper thighs. Most of the cushioned material resides in the two back side cushions. The three font sections and the center back section only contain a minimal amount of padding.
Although at first glance you may find the pillow to be smaller than expected, this is could end up being a plus to most consumers. That's because the cushion is not intrusively large as other orthopedic pillows tend to be. The small size, however, could also be a double edged sword to some users, as it may not offer as much padding as some may like.
The majority of customers should find it to be comfortable and supportive, but those dissatisfied could find it to be too thin compared to other support cushions on the market.
Overall, this should satisfy most consumers, although those hoping for a cushion as thick as some orthopedic cushions could be disappointed.
Alternatives
You can find numerous posture-correcting cushions with butt and hip support. This $19 ergonomic seat cushion by Zen Life looks very similar to Better Booty Pillow, right down to the color scheme.
Your Better Booty Pillow Reviews
Have you used Better Booty Pillow? Give us your thoughts by leaving a comment below and a star rating above.