Better Brella is an umbrella with reverse open-close technology. Read my Better Brella review plus additional product information.
Sponsored Links
About Better Brella
Better Brella opens differently than a regular umbrella, which is said to be easier and result in less water being spilled onto the floor. The official product website is buybetterbrella.com, which was registered in December 2015. The screen capture below shows the official website as it appeared in May 2016. Note that the price has since changed (see below).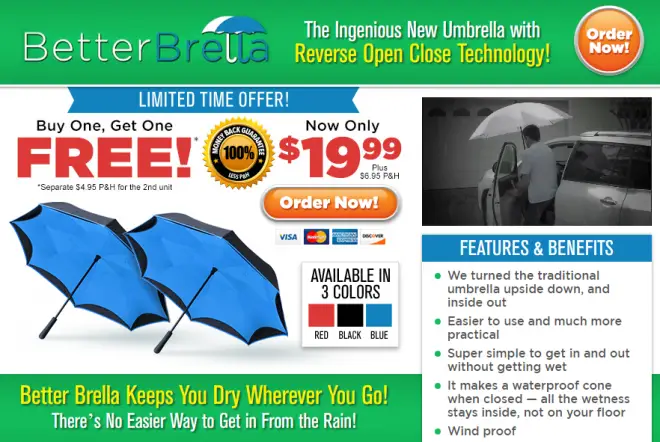 Claims and Features
Easier to use
Simple to get in and out without getting wet
Waterproof cone when closed prevents leaking water
Completely windproof
Available in three colors
Cost
Note that the pricing has changed since the screen shot above. The original cost was $19.99 + $6.95 P&H, with a mandatory second Better Brella for an additional $4.95 P&H.
The online pricing as of December 2016 is $29.99 + $6.95 P&H, with an optional second unit included for another $10. That brings your cost to $36.94 for one, or $46.94 for two.
I found Better Brella at a local Fry's here in Las Vegas for about $20.
Better Brella Review
Better Brella is advertised as a traditional umbrella which has been turned inside out and upside down.
The beauty of the design is that it works mostly as advertised, primarily as an "upside down" umbrella. This allows you to enter your car or home without closing an umbrella which empties rain all over you and your floor. When you enter your home, you fold it upward – rather than downward with a standard umbrella. This catches the remaining water in the umbrella, rather than spilling it onto the floor.
Sponsored Links
One possible drawback is that both sides of the umbrella will get wet. When it is in a folded position, the under-side of the umbrella can get wet, which means when you open it, water could drip onto its user. It may be slightly bulkier than some umbrellas which are able to fold down to a highly compact state.
Another potential problem is that you will need to be diligent about emptying the contents after coming inside from the rain. Failure to do so could mean you'll spill rain water on the floor the next time you use it if you open it inside, which defeats the purpose of the inverted design (I say that from experience).
If the design of Better Brella looks familiar, that's because a popular Kickstarter gained some attention for a product called KAZbrella, which sports a very similar design. Delays with that product allowed a number of knockoffs to hit the market first. You can now find a number of inverted umbrellas at Amazon, many of which are highly rated.
Overall, Better Brella performs about as advertised. I expect consumer ratings to hover around 4-stars once reviews begin to trickle in.
Video Review
Below is my hands-on demonstration and review of Better Brella, along with a follow-up wind demonstration.
Your Better Brella Reviews
If you've used Better Brella please give me your opinion by leaving a comment below and a star rating above.
Updated December 2016 to update pricing and include embedded video review.