Bionic Steel Hose Review: Does it Work?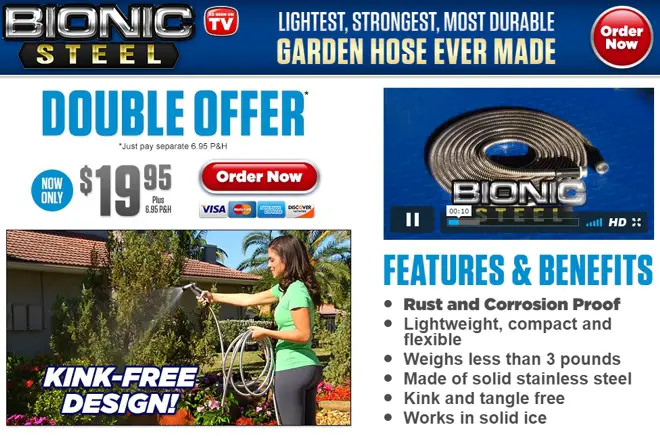 Bionic Steel Hose is a garden hose made of metal, offering a durable yet lightweight design. Does it work? Read our Bionic Steel Hose review.
Sponsored Links
About Bionic Steel Hose
Bionic Steel Hose is a steel garden hose designed to withstand harsh conditions. The product website is bionichose.com, which was first registered in December 2016. The screen capture below shows the official product website in February 2017.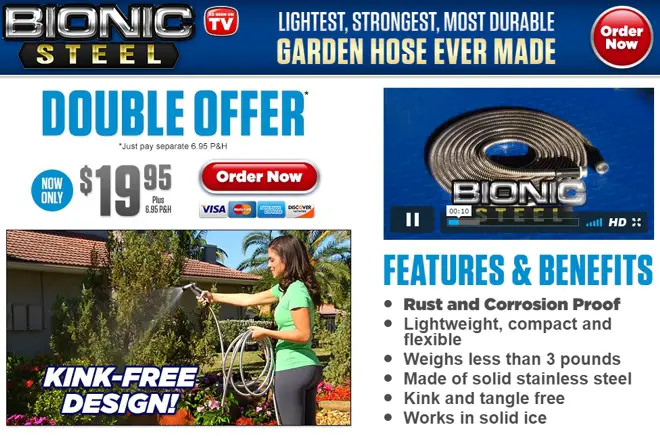 Claims & Features
Corrosion and rust proof
Lightweight and flexible
Weighs under 3 pounds
25 feet in length
Can work in ice
Kink-free, tangle-free
Made of solid stainless steel
Cost
You can get a 25-foot Bionic Steel Hose for $19.95 + $6.95 P&H. There is an option to order a second unit for another $6.95 P&H. This brings your total to $26.90 for one, or $33.89 for two.
As of this writing, Bionic Steel Hose isn't available in stores.
Bionic Steel Hose Review
A few years ago, As Seen on TV marketers lit up the airwaves with huge advertising campaigns for retractable hoses. All of the big players jumped on the bandwagon by introducing their own versions, prompting consumers to scoop up those hoses in large numbers. Once consumers began to receive their orders, however, the reality of the products failed to live up to the advertising hype.
Now in 2017 a new breed of metal garden hoses appear poised for a big advertising push throughout the Spring and Summer. This new type of garden hose is made of metal, allowing for a highly durable design that is also kink-free and lightweight. See my complete recap of all of the "As Seen on TV" hoses to hit the airwaves in 2017.
I haven't seen every new metal hose being advertised in 2017, but I do own Metal Garden Hose, which is almost indistinguishable from Bionic Steel Hose. My guess is that, as with retractable hoses, the reality may not live up to the hype – although the designers are improving the quality over what they offered with those older As Seen on TV hoses.
Sponsored Links
The hose itself is highly durable. Pests won't bother it, dogs won't chew on it, cars won't affect it if they run over it, and you won't find weak spots that bulge under pressure. It can be left outside in the elements without quick degradation found in regular hoses. In that respect, I think that Bionic Steel Hose – and its competitors – will live up to the advertising hype.
Whereas retractable hoses tended to fail equally along the hose and the fittings, when metal hoses like Bionic Steel Hose fail, it will most occur at the connectors and the gasket rings. This is where Bionic Steel Hose is no different than any other hose. Thus, the hose itself should outperform a standard hose, but there's little reason to believe the connectors or gaskets will. I have not had any issues with my metal garden hose, although a few online reviewers have indicated that the connectors could be the product's weak spot.
If you have few problems with your standard garden hose, I don't think Bionic Steel Hose offers enough reason to upgrade. I say that because Bionic Steel Hose isn't sold in stores, which will force you to endure shipping costs and delays. If you live in a harsh climate (like the summers we experience here in Las Vegas) or especially if you have a dog that likes to chew rubber hoses, this could be a great find. Keeping your expectations realistic will probably leave you with the best experience with this product.
Bionic Steel Hose is a new item, as evidenced by its December 2016 website registration. This could mean that it is still in a test marketing phase, which usually leads to slower shipping than you might expect. It could also mean that the price, or even the final design, could still change before it goes into full production.
I'll update this page as more information becomes available.
Alternatives
Bionic Steel is one of several metal garden hoses to engage in marketing campaigns in early 2017. Others include Metal Garden Hose and Flex Steel Hose. For a more established line of metal hoses, I recommend checking out Armadillo Hose Products, which has offered several models of metal hoses for years.
Take a look at the first-hand review of Metal Garden Hose below, for an idea of how well this new breed of hoses works.
Television Commercial
Your Bionic Steel Hose Reviews
Tell us what you think about Bionic Steel Hose by leaving a comment below and a star rating above.
Updated April 2017.