Bite Helper is a handheld electronic device which immediately eliminates itching from bug bites. Read our Bite Helper review.
Sponsored Links
About Bite Helper
Bite Helper is a small device which uses heat and vibration to reduce or eliminate itching from bug bites.
The official product website is bitehelper.com, which was registered in June 2015. The screen capture below shows the official website as it appeared in July 2016.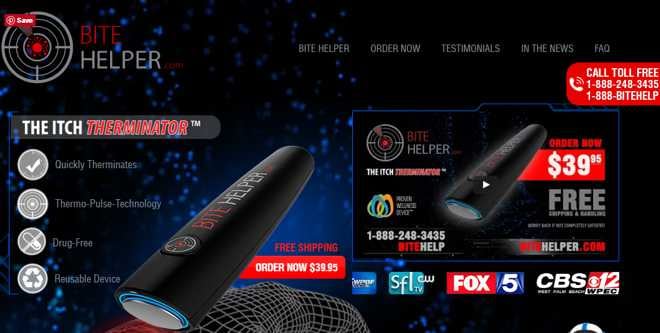 Claims & Features
Neutralizes itching from insect bites and stings
Uses Thermo-Pulse-Technology
Reduces itching from bites or stings from mosquitos, ants, bees, and wasps
Drug-free, chemical-free
Reusable
For ages 4+
Cost
You can get Bite Helper for $39.95 from the official website.
As of this writing, we have not seen Bite Helper in stores.
Bite Helper Review
Bite Helper is a small handheld device which immediately relieves itching from a variety of bug bites. It doesn't use creams, sprays, or drugs, but merely heat and vibration.
Sponsored Links
To use Bite Helper, you place the flat surface of the device onto the affected area, then press the button and hold it in place for about 45 seconds. Once you remove Bite Helper, the itching will almost immediately fade.
There may be occasions that you need to re-apply Bite Helper if the first application doesn't eliminate the itch. Because it only uses heat and vibration, it is safe to re-apply as needed until the itching is gone.
Although it may seem like something from a futuristic sci-fi movie, Bite Helper actually gets the job done. One would think that it shouldn't work, but it does. Not only does it help with itching, but swelling is also lessened.
So how does it work?
Apparently insect venom is sensitive to heat, which neutralizes its effect. A 2011 study for a similar device called Bite Away concluded, "Locally administrated concentrated heat leads to fast amelioration of symptoms."
This type of device works well for mosquitoes, ants, fleas, bees, wasps, and jellyfish. It doesn't work for spiders or snakes.
Our researchers were skeptical, but Bite Helper actually works shockingly well. Most itching will be relieved within seconds of removing the device from any affected bite. Those pesky bites which continue to itch after one treatment can simply be re-treated until they go away.
Alternatives
As surprising as it is that Bite Helper works, it may be equally surprising that there are other devices on the market which work in a similar manner. Perhaps the best known in this category is the Therapik Mosquito Bite Reliever, which has been around for several years and boasts generally favorable ratings. That unit costs about $13.
There is, of course, the old DIY method of heating a spoon under hot water and pressing it firmly into a bug bite. While this does a pretty good job, it's certainly not something you can do anywhere – such as those occasions you have no access to hot water. It is also not consistent due to variations in water temperature and the spoon cooling as it touches the skin. Bite Helper will deliver a constant temperature to the affected area.
Television Commercial
Your Bite Helper Reviews
If you've used Bite Helper, tell us what you thought by leaving a comment below and a star rating above.