Block Box is a caller ID device that permanently blocks unwanted calls. Does it really work? Here is my Block Box review.
Sponsored Links
About Block Box
Block Box is a caller-ID display that connects to a home phone and allows the user to easily block unwanted calls. The official product website is buyblockbox.com, which was registered in September 2017. The screenshot below shows how the product website looked in November 2017.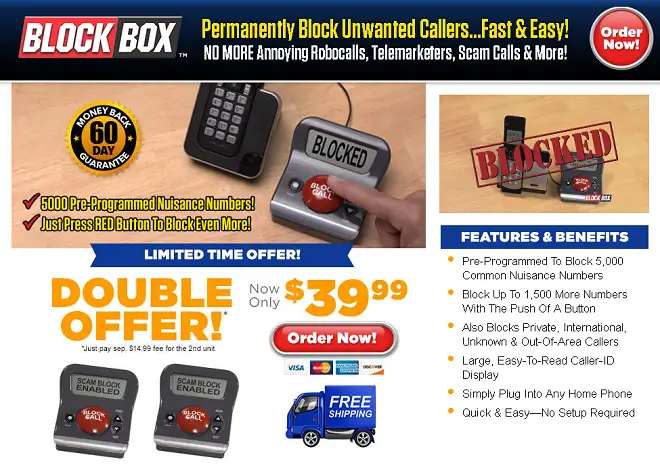 Claims & Features
Comes already programmed to block 5,000 known telemarketers and scammers
Capable of blocking an additional 1,500 numbers (simply press the big red button to block)
Additionally blocks private, international, and unknown calls
Large Caller ID-display
Compatible with any home phone
Simple and fast (does not require setup)
Cost
Block Box costs $39.99 + $1 web service fee for a total of $40.99. There is an optional double offer for a separate fee of $14.99 which would bring the total to $55.98. Shipping is free on both offers. At the time of this writing, Block Box is not available in stores.
Block Box Review
If your landline is hounded by telemarketers, the makers of Block Box may have just the item for you. This simple device plugs into your phone and helps prevent unwanted calls from reaching you. Block Box comes pre-programmed with 5,000 known telemarketer numbers that will automatically be blocked. If any unwanted caller – who isn't on that pre-programmed list – tries to reach you, all you have to do is press the red "Block Call" button to add that number to your permanent block list. Unknown, private, and international numbers can also be blocked.
Sponsored Links
If you're a younger consumer who has never owned a landline, you probably don't know the nuisance of being hounded by telemarketers who typically call landlines. I made the switch to cell-only phone service about 10 years ago, but my parents have kept a landline – and they continually struggle with the avalanche of unwanted calls. And, while it's easy to block numbers on a modern smartphone, it's not quite as easy with many standard landline phones. That's where a product like Block Box comes in. Once you've plugged this device between your phone and the phone line, you can then easily block any number from bothering you. Perhaps just as nice as the blocking feature is that your phone won't even ring when a blocked number attempts to reach you.
Block Box comes preloaded with 5,000 common telemarketer numbers, which should make a dent in the unwanted calls. Over time, as you add more and more blocked numbers to the list, the number of spam callers should decrease dramatically. I doubt most people will ever manually add the maximum 1,500 additional numbers Block Box can hold. If you do reach the limit, you can always go in and edit your list (which would probably be unwieldy at 1,500). Block Box won't filter 100% of unwanted calls because telemarketers will always add new numbers to their arsenal, but it will decrease the flood to a trickle.
Overall, I think Block Box will satisfy the majority of consumers who purchase it. It is simple to use, and will prevent most unwanted calls from ever reaching your ears. Price-wise, it is competitive when compared to similar items out there. It also doesn't require a subscription like other call-blocking services I've seen.
Based on its September 2017 website registration date, I believe Block Box is probably still in the test marketing phase, which means it could take longer to arrive than expected. You may want to check out my short video about As Seen on TV test marketing to get a feel for how that process works. If you don't want to wait weeks (or longer) for Block Box to arrive, there are very similar alternatives that will arrive faster but cost more.
Alternatives
Block Box is very similar in design and function to CPR V500 Call Blocker. That $100 call blocker holds a #1 Best Seller rating on Amazon with a 4.5-star rating among thousands of reviewers. These two products are so similar that I can't tell if Block Box is a re-branded version or just borrows heavily from the design of the CPR unit.
Your Block Box Reviews
Have you used Block Box or something like it? Leave a comment below and a star rating above to let us know your thoughts.