Blue Diamond Pan is a nonstick frying pan with a layer of ceramic coating imbued with diamond. Does it really work? Here is my Blue Diamond Pan review.
Sponsored Links
About Blue Diamond Pan
Blue Diamond Pan is a new type of nonstick cookware which has a coating of ceramic which is reinforced by diamond. The official product website is bluediamondpan.com, which was registered in December 2017. The screenshot below shows how the product website looked in June 2018.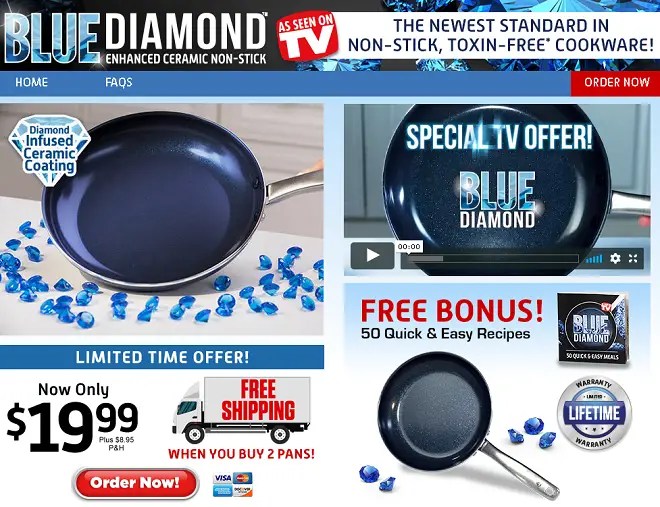 Claims & Features
Sturdy ceramic coating infused with diamond
No toxic chemicals (PFAS, PFOA, lead, or cadmium)
Base of pan is forged to prevent warping
Contains nonstick coating
5X stronger than regular nonstick cookware
Nonstick coating lasts 10X longer than average
Cooks 4X faster than normal nonstick pans
Withstands heat up to 850 degrees
Safe to use with cooking utensils and in the dishwasher
Cost
Blue Diamond Pan costs $19.99 + $8.95 shipping for a total of $28.94. There is an optional double offer for $39.98 that includes free shipping. Each pan also comes with a recipe book that contains 50 recipes. There is an option to add a lid for $10 upon checkout. At the time of this writing, Blue Diamond Pan is not available in stores.
Sponsored Links
Blue Diamond Pan Review
The Blue Diamond Pan is a 9.5″ nonstick and scratch resistant pan that has an outer coating of ceramic which is enhanced with diamond. The advertising claims that the Blue Diamond Pan is 5x stronger, lasts 10x longer, and transfers heat 4x faster than the average pan. Besides being able to fry with the pan, it can also be placed in the oven or broiler, and can be heated safely up to 850 degrees.
Many of these nonstick cookware products are impressive at first, yet are likely to deteriorate with continued usage. This is made worse by exaggerated advertising demonstrations that I have found difficult to successfully recreate. Through experience, I've found that babying the nonstick coating of these new pans will help them last longer, but the majority of people handle them like a regular pan and subsequently discover the nonstick surface rapidly degrades. There are some instructions on how to care for the Blue Diamond Pan in the FAQ of the product website. They suggest never allowing the pan to smoke or burn (always using it on low to medium heat), using a minimal amount of oil or butter while avoiding sprays and extra virgin olive oil, and hand washing in soapy water with a soft sponge (despite the claims that the pan is dishwasher safe).
As you can see in the video below, I purchased two of these pans and used one according to the advertising demonstrations, and the other more closely aligned with the included instructions. I found that the nonstick surface washed quite easily no matter how much I scratched it or caked materials onto it. As far as food sticking without any oils at all, that seemed to vary based on the item in the pan. Egg, for example, will still stuck to some degree, but the pan still cleaned up effortlessly. Melted cheese was no problem, nor were shrimp or chicken breasts. Surprisingly, using sandpaper on the pan's surface barely made a scratch, although using a mixer (as depicted in the commercial) seemed to cause the most damage. Hitting the bottom of the pan with a hammer caused an obvious dent.
Despite a few mixed results when pushed to extremes, when I followed the instructions (low to medium heat, hand washing, using non-abrasives), the Blue Diamond Pan delivered impressive results. Nothing stuck, and it cleaned up quite easily. My only real complaint about the Blue Diamond Pan, other than the advertising demonstrations, is that the handle had a tendency to get quite hot.
In the end, if you ignore the advertising demonstrations and stick to the instructions, I think you may actually find this to be one of the better nonstick pans among the recent As Seen on TV offerings.
Alternatives
If you're just looking for a solid nonstick pan with stellar reviews, you may want to consider this T-fal 12-inch, anti-warp, scratch-resistant pan that currently holds an impressive 4.6-star rating among over 1500 reviews.
Your Blue Diamond Pan Reviews
Have you used Blue Diamond Pan or something like it? Leave a comment below and a star rating above to let us know your thoughts.