Bobo Bone is an interactive dog toy that moves and tosses out treats. Does it work? Read our Bobo Bone review.
Sponsored Links
About Bobo Bone
Bobo Bone is a motion-activated dog toy that moves randomly and occasionally gives your dog a treat. The official product website is getbobobone.com, with a registration date of January 2017. Below is a screen shot of the original advertised site (bobobone.com, now offline), taken in November 2016.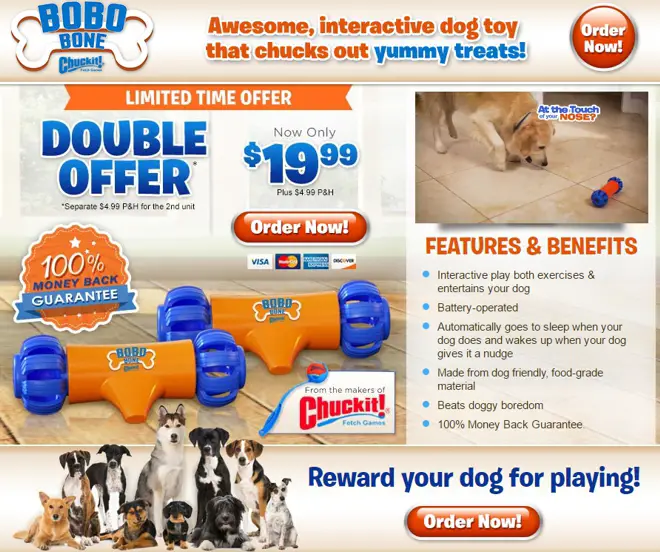 Claims & Features
Exercises and entertains your pet
Battery operated
Automatically sleeps and wakes
Made of food-grade material
Cost
Bobo Bone costs $19.99 + $4.99 P&H. A second unit is included for another $4.99, bringing your total to $29.89 for two units.
Sponsored Links
Keep in mind that the $9.90 in P&H is not refundable. This product is not yet available in stores (as of this writing).
Bobo Bone Review
Bobo Bone takes two things loved most by dogs – treats and play – and combines them into a single product. This battery-operated dog toy moves randomly and "chucks out yummy treats."
The premise behind Bobo Bone is rather simple. It is a bone-shaped toy that behaves more like a battery-operated toy vehicle. Each end of the bone is a wheel that turns randomly in each direction. This create movement that makes it move in circles or in a straight path. This random movement will probably spark the interest of most dogs.
In addition to the random movement, your dogs favorite treats (which are supplied – and inserted into the bone – by you) will randomly pop out, giving Fido even more of a reason to stay glued to the toy.
The auto on/off  is a nice feature will should prevent the toy from draining its batteries in a single session. When your dog wants to play again, the motion-activated feature will re-engage Bobo Bone, and your dog's next play session will begin.
Obviously no two dogs are alike, and some will find such a toy more entertaining than others. The fact that random motion and treats are combined into a single toy, however, should prompt most dogs to take interest.
Overall, we think that most customers who purchase Bobo Bone for their pets will be satisfied. The motion, auto on/off, and treat dispensing functions make this a compelling option.
Alternatives
Bobo Bone isn't the first dog toy treat dispenser, as you can find hundreds of items that fit that description.
A popular dog treat toy is the Bob-A-Lot, which holds up to a full meal. Then, of course, there is the KONG Wobbler Treat Dispensing Dog Toy, which is highly rated and costs about $15.
Your Bobo Bone Reviews
Have you used Bobo Bone? Give us your thoughts by leaving a comment below and a star rating above.
Updated January 2017.