BodyGym is a portable workout tool that can be used to do over 100 exercises. Does it work as advertised? Here is our BodyGym review.
Sponsored Links
About BodyGym
BodyGym is a lightweight exercise bar that can be used in various ways to get a full body workout. The official website is bodygym.com, with a registration date of February 1999. The screen capture below was taken of the product website in May 2017.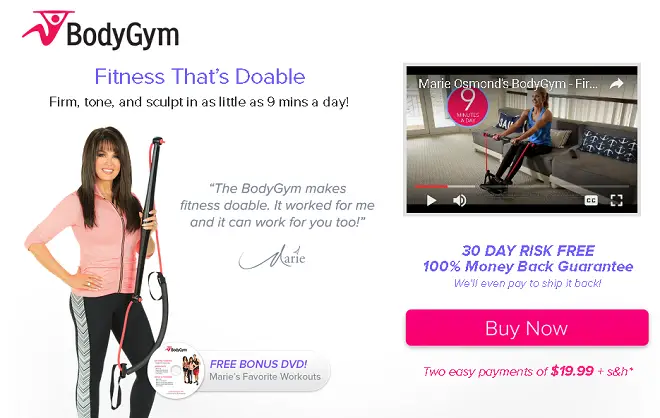 Claims & Features
Lose weight, strengthen, & tone in as little as 9 minutes a day
Compact & effective
Workout anywhere
Works for all fitness levels
Simple to use
Cost
BodyGym Basic costs $39.98 + $9.95 shipping for a total of $49.93. Payment is divided into 2 installments with the first totaling $29.94 and the second being $19.99. There is also an option to upgrade to a deluxe version of BodyGym with Video on Demand access which costs $59.98. Shipping is free with the deluxe version, and payments are split into two installments of $29.99. Both versions include the BodyGym bar, latex resistance band, workout sticker guide, travel bag, tape measure, workout guidebook, and 2 DVDs.
You can find BodyGym on Amazon for about $50.
BodyGym Review
You've probably seen the advertising for BodyGym featuring Marie Osmond, who has been doing double duty pitching this product and Nutrisystem. She is definitely an ideal candidate to pitch these types of products, looking remarkable in her 50s. And with BodyGym, Marie doesn't just pitch the product, she actually stars in an included workout DVD.
So what exactly is BodyGym? It is essentially a resistance band on a stick. As simple as that sounds, BodyGym does actually provide an improved experience over typical resistance bands.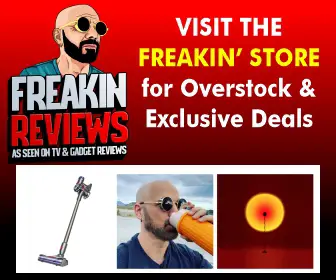 To use BodyGym, you typically attach your feet to the bottom via foot straps and push or pull the bar, depending on the exercise you are performing. For example, you can stand on the straps and hold the bar in your hands while doing squats in order to add resistance. Bicep curls can be done by placing your feet in the straps and pulling the bar upward. There are dozens of exercises that can be achieved in this way, using different configurations. Fortunately, there are a number of photos that show you how to do various exercises, printed right on the bar itself.
As with most exercise bands, the amount of resistance is not going to compare to even a moderate-sized dumbbell. I don't think, however, that the target demographic cares about that. Although the advertising states that BodyGym is for "men and women of all fitness levels," it appears by the use of Marie Osmond that this is probably targeted more toward women who aren't typically gym rats. And that demographic likely doesn't care about higher levels of resistance.
Speaking of resistance, there is a way to increase resistance slightly, which is by "rolling" the bar. You basically reel in a bit of the band to make it shorter and increase resistance.
The workout DVD is a nice way to introduce you to BodyGym, although – and this is not unique to BodyGym – there are only so many times you can watch the same DVD before its usefulness disappears.
For those who avoid gyms like the plague, those who travel, those who have chronic conditions or injuries, or those who just like to sneak in a bit of exercise at work, this is an ideal fit. If you are looking to bulk up, I don't think BodyGym will provide enough resistance to build significant muscle.
Any piece of exercise equipment will only be as useful as the effort put into it. If you enjoy using BodyGym, you'll probably stick with it and see results. If not, it could find itself behind the ironing board in your hallway closet in no time.
Alternatives
The number of compact full-body "gyms" is quite overwhelming. Gwee Gym is a popular line of portable resistance bands that can also be used for a full-body workout. Wonder Core Smart is another type of full body gym, and costs about $60. It sports a very high 4.4 star rating among over 700 reviews.
It may pay to do some research before making a final decision.
Television Commercial
Your BodyGym Reviews
What are your thoughts about BodyGym? Drop a comment below and a star rating above to let us know what you think about it.