Broom Mop is a versatile, all-in-one cleaning tool that does the job of both a mop, broom, and duster. Does it work? Read our Broom Mop review.
Sponsored Links
About Broom Mop
Broom Mop replicates the effectiveness of a mop, broom, and other cleaning items, all in one tool. The official product website is broommop.com, which was first registered in August 2016. Below is a screen capture of the official website from October 2016.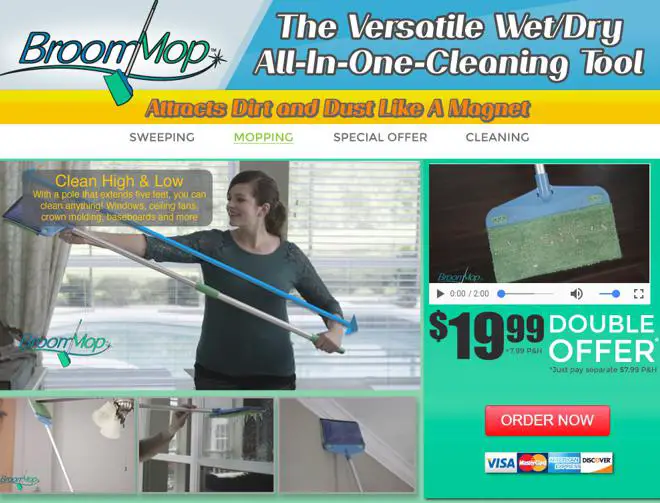 Claims & Features
Attracts dirt and dust
Dozens of bristles
Grabs and traps debris
Usable for all floor types, windows, and mirrors
Machine washable
Built-in squeegee
Handle extends to nearly 5 feet
Cost
Broom Mop can be purchased from the official website for $19.99 plus $7.99 shipping and handling. However, one order includes an additional Broom Mop Bonus Kit for $7.99 that can't be removed from your order. The final cost is $35.97.
Sponsored Links
Broom Mop Review
Broom Mop (also referred to in the television ad as "Broom Mop 360") is a two sided dusting mop that can be used for sweeping, mopping, dusting and can even be used to squeegee windows.
Although the look and function of Broom Mop seems familiar, upon closer inspection you'll find a tool that is rather unique. It features a flat two-sided design that allows you to easily sweep or mop without changing tools. Microfiber surfaces are standard among cleaning tools, and the pads included with Broom Mop should be sufficient for small cleaning needs. One pad is for mopping, the other for sweeping and dusting.
The lightweight design is good for reaching high places or underneath tight spaces. A telescoping handle can extend the product to about 5 feet in length.
As with most As Seen on TV products, you'll want to keep your expectations somewhat grounded for this item. We've found that most "hybrid" products tend to have a good overall use, but sometimes can't beat the original design for tougher specific jobs. For example, Broom Mop may not be able to outperform a standard mop if you're hoping to intensely mop a 500 square foot tile floor or sweep dirt from a large outdoor deck. We do think, however, that it will be an excellent tool for small everyday cleanup jobs.
The pads are machine washable, which should make the lifetime of your Broom Mop on par with other microfiber dusters. The construction appears to be of modest, but adequate, durability.
A handheld version is also included with each purchase. While most As Seen on TV bonus items tend to be of marginal use, the handheld version may actually rival the primary product in usefulness for small cleanup jobs around the home.
Overall, we think that Broom Mop should work generally as advertised, although it probably won't replace standard tools for larger cleaning jobs.
Alternatives
We haven't seen an item quite like this in the U.S., although a Chinese company does manufacture a nearly identical item.
There are two-sided dust mops which work essentially the same, such as this highly rated flip mop by O-Cedar that costs about $17.
Your Broom Mop Reviews
If you've used Broom Mop, let us know what you think by leaving a comment below and a star rating above.