Brush Hero is an auto detailing brush that is powered by water pressure from a standard garden hose. Does it really work? Here is our Brush Hero review.
Sponsored Links
About Brush Hero
Brush Hero is a water powered auto cleaner with a spinning brush. The product website is brushhero.com, which was first registered in June 2015. The screen shot below shows how the product website looked in April 2017.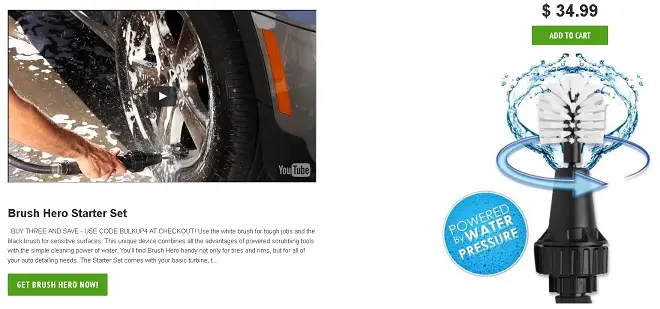 Claims & Features
Spinning brush cleaner
Powered by a standard garden hose
Cleans tires, hubcaps, & rims
Does not require electricity or batteries
Multiple uses (clean outdoor furniture, grills, bikes, boats, etc…)
Cost
Brush Hero costs $34.99. Shipping is apparently free. It comes with a black brush for more sensitive cleaning and a white brush for tougher cleaning.
You can find Brush Hero on Amazon for about $35.
Brush Hero Review
Brush Hero is a spinning brush attachment that connects to your hose and allows you to clean a variety of surfaces. The primary advertised use for Brush Hero is related to automotive cleaning, such as the rims or front grill.
Sponsored Links
To use Brush Hero, you choose which of the two brushes you want to use (hard or soft), attach it to your hose, and apply your favorite cleaner to the surface being cleaned. Brush Hero has a switch that allows you to turn the water on or off, which means you don't have to walk back to the faucet to adjust the water. That switch can be engaged by the flip of your thumb.
Another nice feature is that you can quickly disconnect the brush portion of Brush Hero from the hose and attach another spray head. This can be done without having to turn the water off at the faucet.
I had a chance to see a Brush Hero in action, and found that it worked about as advertised. It offered impressive torque, even when digging into tough areas.
There were, of course, a few potential items of note.
If you are cleaning your car's rims, which is featured heavily in the advertising, it may not effectively clean all of the nooks and ridges, regardless of the brush you choose.
For those who live in water conservation areas (like me), this seems to use much more water than other methods (like a bucket and a sponge). Also, because the water is running while it is being used, you'll want to clean from the bottom upward. Cleaning from the top downward will will rinse away all of your cleaner by the time you get to the bottom.
There are a wide variety of uses for Brush Hero, and the product will be more effective for some uses than others. I'm not sure that cleaning a car's rims is the most efficient job for Brush Hero, although that seems to be the purpose for which most consumers use it.
In my case, Brush Hero wasn't much of a time saver for rims, and at $35 I hoped it would be.  Be sure to read some of the hundreds of reader comments on Amazon to get a feel for the praise and the criticism directed at Brush Hero.
Overall, opinions are mostly positive, but there's a large minority of dissatisfied customers who should also be heard.
Alternatives
Some users like the idea of a spinning cleaner brush attached to a drill, such as this $16 Drillbrush Scrubber that holds a high rating online.
Television Commercial
Your Brush Hero Reviews
What do you think of Brush Hero? Tell us what you think by leaving a comment below and a star rating above.