Bug Wall is a pest repellent strip that creates a vapor barrier to prevent bugs from entering your home. Does it actually work? Read our Bug Wall review.
Sponsored Links
About Bug Wall
Bug Wall is a strip that creates a window or door barrier to prevent pests from entering your house. The official product website is buybugwall.com, which was registered in October 2016. The screen shot below was taken of the product website in January 2017.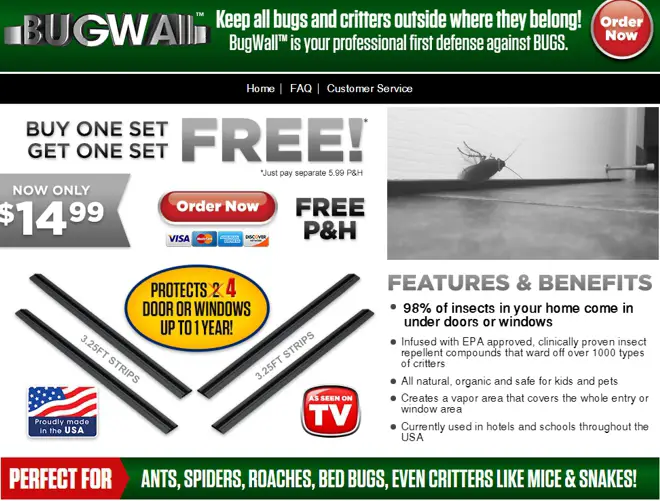 Claims & Features
Infused with EPA approved insect repellent compounds.
Creates a vapor area that covers and entire entry or window.
Used in hotels and schools.
Safe: All natural and organic.
Works for up to 1 year
Cost
You can get Bug Wall for $14.99 for the first two and $5.99 for the second set. This totals $21.98 for four units.
Sponsored Links
As of this writing, Bug Wall isn't available in stores.
Bug Wall Review
Bug Wall (also stylized as "BugWall") is a strip that contains a repellent on one side and an adhesive on the other. To use, you simply cut it to size and install it on the window frame or door of your choice. The repellent will work to prevent most bugs from passing over the strip and into your home.
Although there are numerous products on the market to repel pests (see below), the design of BugWall is somewhat unique in that it uses an adhesive and is designed for doors and windows.
Each strip is infused with a citronella solution, which is used in a variety of pest repellents, and generally works pretty well.
Price-wise Bug Wall may be more expensive than other repellent options, but it is a design that we have not seen before. And, while no repellent offers a 100% success rate, we think Bug Wall will do a respectable job of stopping bugs from roaming into your abode.
Even with the double offer, you'll only get four strips, which may not be enough to protect every window and door for a medium to large house. Apartments, small homes, and condos may not need additional strips, however. That said, if Bug Wall can reduce the number of times you need call a pest control service, it could easily pay for itself.
Overall, if your expectations are realistic, Bug Wall should help reduce the number of pests that enter your home. It may be a little more expensive than other options, but it sports a clever design that we think is superior to other products in this category.
Alternatives
Although it is installed differently, the Hot Shot No-Pest Strip is a far less expensive option that also uses a vapor to repel insects. That $6 item has a 4+ star rating among hundreds of consumers.
Some consumers like to use repellents on specific occasions, with products such as Murphy's Mosquito Sticks, which cost about $12 for a package of 12.
Your Bug Wall Reviews
Have you used Bug Wall? Let us know what you think by leaving a comment below and a star rating above.