Bye Bye Foundation is a line of cosmetics advertised in late night infomercials.
Sponsored Links
About Bye Bye Foundation
Bye Bye Foundation is more than just foundation, but a full line of cosmetics. It is primarily sold in kits from the product website.
The official website is tryitnow.com, which was first registered in December 2002. The screen capture below shows the official website in August 2015.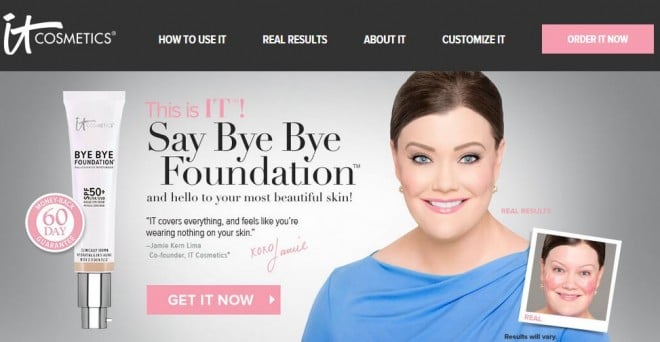 What They Claim
Softer, smoother skin
Reduction in visible wrinkles
Improved skin texture
Smaller looking pores
Shades include light, medium, tan, and rich
Bye Bye Foundation Cost
There are currently two TV offers available on the product website: A 7-piece kit for $49.95, or a 5-piece kit for $39.95. $5.99 shipping is also applied to each order.
Sponsored Links
Auto-Ship
As with most cosmetic infomercials, when you purchase from the official website, you'll be signed up for their auto-ship program, which will send new supplies every three months and automatically bill your credit card. Their terms state:
Approximately 30 days after your first order is shipped, and then approximately every 3 months thereafter, you will be sent a new full size supply of IT Cosmetics®. You will receive the guaranteed price of $49.95 plus $3.99 shipping and handling per month, which will conveniently be charged to the card you provide today unless you call to cancel.
Reviews
Pitched in late-night infomercials by wide-eyed Jamie Kern Lima, Bye Bye Foundation is one of several cosmetics which are big on promises. But does this one deliver?
Most of the praise heaped at It Cosmetics (aka Bye Bye Foundation) is that of superior coverage. Complaints include a cake-like look, or dryness. Overall, however, Bye Bye Foundation sports mostly positive ratings, in the 4-star range. Because makeup is so subjective, purchasing a single unit rather than a kit is probably a good idea before diving in with a major purchase.
Some of the products in the kits are more highly-rated than others.
Rather than purchasing an expensive bundle – and subjecting yourself to their pesky auto-ship program – you may want to simply visit the company's Amazon page where you can purchase the products individually – sans auto-ship.
Take a look at the comments over on Epic Reviews, where the product holds a 4-star rating with over 750 votes as of this writing.
Your Bye Bye Foundation Reviews
Let us know what you think of Bye Bye Foundation by leaving a comment below and a star rating above.
First published: August 2015
Modified: December 25, 2015