Canine Condo is a lightweight portable pet tent.
Sponsored Links
About Canine Condo
Canine Condo is a tent for dogs. The product website is getcaninecondo.com, which was registered in July 2015. The screen capture below shows the official website in September 2015.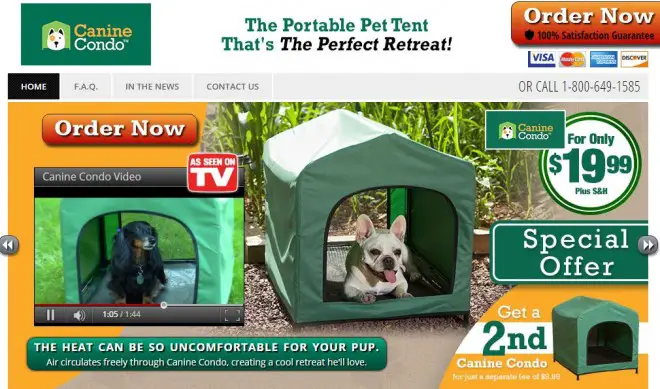 Sponsored Links
What They Claim
Hammock design
Soft mesh canvas material
Weather resistant
Assembles in minutes
Canine Condo Cost
$19.99 + $7.99 shipping for a total of $27.98
Reviews
Canine Condo is a lightweight and portable pet tent brought to you by As Seen on TV giant Telebrands. It features a canvas material and mesh floor which allows air to circulate, while keeping pets off of the hot ground and direct sunlight.
There are a number of similar pet tents to be found on Amazon, with prices varying above and below that of Canine Condo.
As with other pet tents, this type of product can be a superior solution to standard dog houses, as they are more portable, can be cleaned easier, and keep air circulating better.
Telebrand doesn't tell us the exact dimensions of Canine Condo, and although the advertising states that it "welcomes even the largest of dogs," the commercial features mostly smaller dogs using it.
Another consideration is that its lightweight feature means it could be blown around by high winds, or knocked over by rambunctious dogs.
Your Canine Condo Reviews
Let us know what you think of Canine Condo by leaving a comment below and a star rating above.