Chalk Magic is a "modern, flexible version of the classic chalkboard" which can be cut to any size and placed in a variety of locations. Here is our Chalk Magic review plus key product information.
Sponsored Links
In our tests of chalk magic we found that it generally worked as advertised. The re-usable sticky backing is a plus, lengthening the life of the product, although the stickiness eventually lessens over time.
Chalk Magic probably would have been more useful a few decades ago, when ladies of the home employed chalkboards for cooking recipes and children's chores. In the 2010's, however, a flexible chalkboard will only have limited appeal, as most homes are not adorned with such an antiquated tool.
When ordering, be aware that the "get one free" offer is locked in, so you really can't just order one set. Thus, their advertised price of $10 is not reflected by the $24 charge you'll receive.
Sponsored Links
Chalk Magic "About" paragraph:
This item makes it convenient for consumer to write reminders, make kitchen labels, organize items and much more!
Official Website
chalkmagic.com
Registered August 2, 2013
Contact
Claims/Features
Tagline: "The fun, new, flexible version of the classic chalkboard!"
Flexible material easily cuts to any shape or size
Adhesive backing sticks to almost any surface
Peels away with no residue but stays sticky for application to another surface
Real chalkboard surface wipes clean to use over and over
Cost
$10.00 plus $6.99 P&H
Double your order for FREE, just pay the separate processing and handling of $6.99 P&H = $23.98
There is no way to only buy one set on the website.
Screenshot
Below is a screen shot of the official Chalk Magic website, taken in February 2014: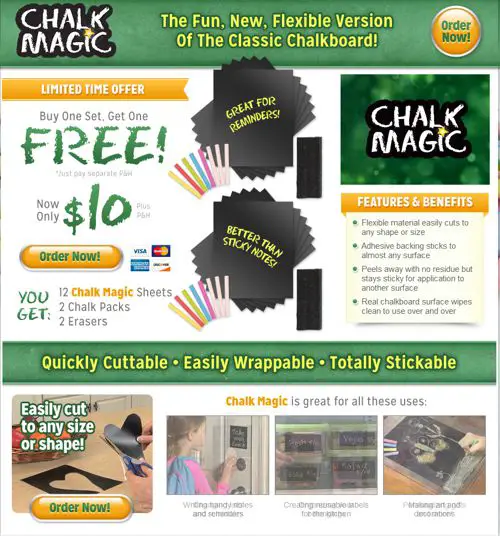 Television Commercial
Below is a television commercial for Chalk Magic:
Chalk Magic Reviews
Have you tried Chalk Magic? Please give us your review in the comments below and give it a star rating above.