Chef's Edge is a cutlery set with an automatic sharpening system. Read our Chef's Edge review.
Sponsored Links
About Chef's Edge
Chef's Edge is a cutlery set with built-in blade sharpeners. The official product website is getchefsedge.com, which was registered in February 2016. The screen capture below shows the official website as it appeared in January 2017.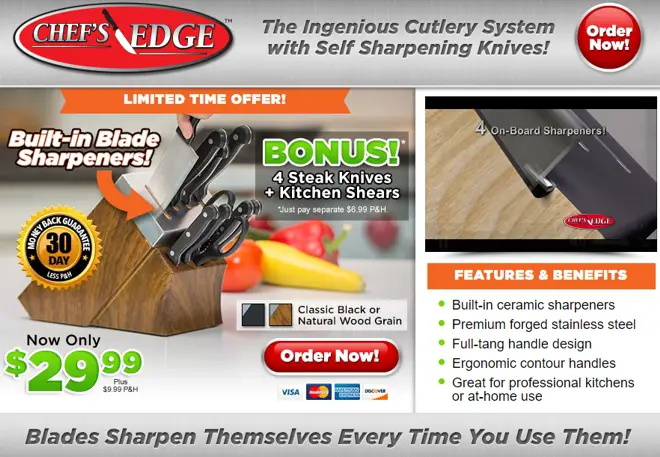 Claims & Features
Knife holder with built-in ceramic sharpeners
Made of forged stainless steel
Full-tang, ergonomic handles
Good for use at home or in professional kitchens
Includes chef's knife, santoku knife, boning knife, and utility knife
Black or wood color
Cost
Chef's Edge was originally marketed for $39.99 with free shipping. It is now marketed as $29.99 and $9.99 P&H. A set of bonus kitchen shears and set of 4 steak knives are included for another $6.99, and you can't opt out of this offer. This means you'll pay $46.97 for the entire offer.
There is a 30 day money back guarantee, minus P&H.
Sponsored Links
Chef's Edge Review
This 10-piece cutlery set is advertised as "The ingenious cutlery system with self sharpening knives." The key is the block with built-in sharpeners for four included knives: chef's knife, santoku knife, boning knife, and utility knife. There are 5 non-sharpening slots which hold the "bonus" shears and steak knives.
As noted below, there are other in-block sharpeners on the market, so Chef's Edge may be revolutionary, but it's not necessarily unique. The phrase "self-sharpening" is something of a misnomer, as you are manually sharpening a knife each time you remove or replace one of the four knives in the slots.
Quality-wise, the knives included with the Chef's Edge system appear to be of average construction. At slightly under $50, the Chef's Edge system is less expensive than some of the more established offerings out there, although there could be a trade-off in quality as well.
If you're looking for a basic knife set of average quality with a built-in sharpener, Chef's Edge may fit the bill.
Based on the product's website registration date and limited advertised, it would appear that Chef's Edge is being marketed on a limited basis. This sometimes means that a product's price or bonuses may change, or that it could be more likely to go into back order status. We'll keep an eye out to see if Chef's Edge opens up to a wider advertising campaign.
Alternatives
Despite being advertised as a revolutionary design, it is not difficult to find other cutlery sets with in-block sharpeners. This 19-piece set by Chicago Cutlery is highly rated and sports a similar design, as does this 16-piece set by KitchenAid. While these sets are more expensive than Chef's Edge, they are offered from more established brands, and have numerous user ratings available.
Television Commercial
Your Chef's Edge Reviews
If you've used Chef's Edge, tell us what you thought of the product by leaving a comment below and a star rating above.
Updated January 2017 to reflect updated pricing.