Chill Chest Review: Collapsible No-Ice Cooler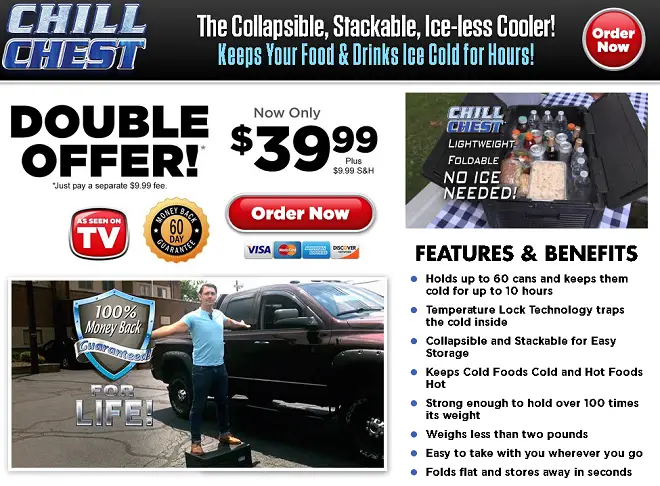 Chill Chest is a lightweight and portable cooler that can be folded flat for storage. Does it work as advertised? Here is our Chill Chest review.
Sponsored Links
About Chill Chest
Chill Chest is a sturdy cooler that requires no ice and can be folded for easy storage. The official website is buychillchest.com, with a registration date of May 2017. The screen capture below was taken of the product website in August 2017.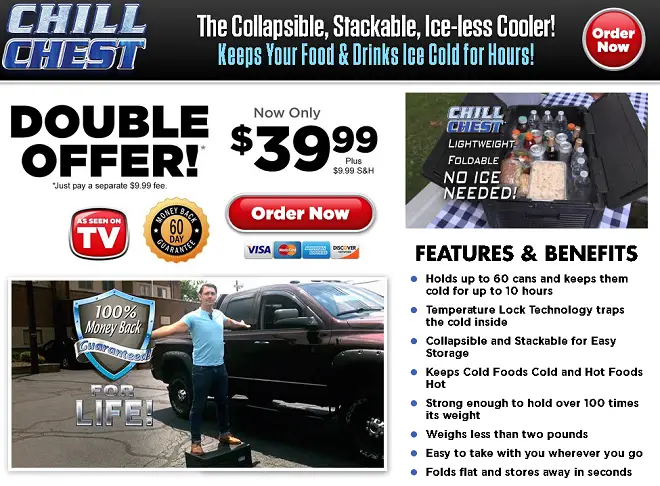 Claims & Features
Can chill up to 60 cans for up to 10 hours
Retains temperature of food and drinks (cold or hot)
Collapses down flat for storage
Manufactured from polypropy that can withstand over 200 lbs
Chest weighs under 2 pounds
Easily portable
Cost
Chill Chest costs $39.99 + $9.99 shipping + $1 web service fee for a total of $51.98. There is an optional double offer for a separate fee of $9.99 which would bring the total to $61.97. I picked up Chill Chest at a Bed Bath & Beyond for $40 but used a 20% coupon which knocked $8 off the price.
Chill Chest Review
The advertising is compelling: A lightweight collapsible cooler that doesn't require ice. Although it sounds too good to be true, that's exactly what the makers of Chill Chest claim their product can offer.
Sponsored Links
While it may sound like it is powered by some high-tech machine, Chill Chest is simply a collapsible box made of insulated material that helps maintain the temperature inside. I can't really discern much of a difference in texture between this and a standard styrofoam cooler. To use Chill Chest, you simply unfold the interlocking pieces until you have what resembles a regular ice chest. It is not leak-proof, however, so you wouldn't want to put ice in it without being inside of a bag. It's ideal for long trips or hauling groceries home on a hot day, as the insulation should keep items cold for hours.
As you can see in the video below, I took the Chill Chest and another cooler out to the lake with me in hot weather. The good news is that Chill Chest performed about on par with the regular cooler. Even better news is that it is far lighter and can be folded down for easy storage. The only real downside is that it is not watertight, so it will leak if you put ice inside. It seems to be durable, as I had the other cooler resting on top of it throughout the day and it did not collapse.
I think consumers who have realistic expectations about what this cooler and can and can't do will be pleased with it. From what I can tell, the $40 price tag seems to be a point of contention with some consumers.
Alternatives
If Chill Chest looks familiar, you may have seen a nearly identical item called Flip Box, which comes in several versions. The Flip Box XL is perhaps the closest to Chill Chest because they are both advertised to hold 60 cans. Before purchasing either Chill Chest or Flip Box, I recommend reading the 10+ reviews for Flip Box here, and another 200+ reviews here.
Television Commercial
Your Chill Chest Reviews
What are your thoughts about Chill Chest? Drop a comment below and a star rating above to let us know what you think about it.
Updated April 2018