Clamp It is a ceramic straightening brush with a patented styling arm. Does it work as advertised? Here is our Clamp It review.
Sponsored Links
About Clamp It
Clamp It is a hot brush that features 65 heated bristles and a styling arm. The official website is buyclampit.com, with a registration date of April 2017. The screen capture below was taken of the product website in May 2017.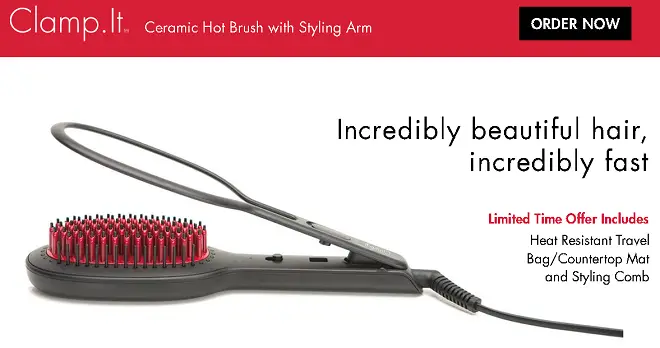 Claims & Features
Styling arm holds hair perfectly for that polished look
Erase frizzy hair with the 65 heated tourmaline bristles
Surface of brush quickly & evenly heats up to 420 degrees
Usable on all hair types & textures
60-day money back guarantee
Cost
The regular version of Clamp It costs $39.99 + $7.95 shipping for a total of $47.94. There is also a "Rapid Heat Up" version of Clamp It that costs $59.99 + $7.95 shipping for a total of $67.94. Both versions come with a heat resistant travel bag and counter top mat and a styling comb.
You can find Clamp It on Amazon for about the same prices as above.
Clamp It Review
Clamp It (stylized as "Clamp.It") is advertised as a heated brush that combines a round brush and styling arm into a single device. Sporting a function similar to that of a flat iron, Clamp It features a styling arm that holds hair firmly against the heated brush in order to deliver more efficient results.
Sponsored Links
To use Clamp It, you simply take a section of hair that you want to straighten and "clamp it" with this device in the same manner you would a flat iron. You then grip hair in between the styling arm and bristles and use similar to that of a straightener. Unlike a flat iron, or even some other heated brushes, Clamp It can treat rather large sections at once. It should only be used on dry hair.
Clamp It heats up to 420 degrees almost instantly, due to its "PTC heater." Heat is delivered via 65 tourmaline ceramic raised bristles, which also emit negative ions to reduce frizz.
As with other heated brushes I've seen, it would appear that this item will find most success with those who have medium to long hair. Very short hair doesn't always fare as well with these types of devices.
Overall, I think that once Clamp It starts to garner consumer reviews, it should come in close to the 4.5 star range. With a simple and clear design, Clamp It should work as advertised to most customers.
My wife was immediately impressed when she first saw this device, and already has a rather extensive collection of brushes and flat irons. There are many heated brushes and flat irons on the market, but the single addition of a styling arm makes Clamp It a winner. You can find similar items, but nothing (yet) quite like Clamp It.
One note about the stylized name "Clamp.It" that is used in the ads and website. I realize the makers are trying to play into the digital age with a "dot" in the name, but there is a website at clamp.it that sells clamps – not this item. I wonder how many consumers have seen the name "clamp.it" and have visited that website looking for a heated brush.
Alternatives
While I haven't seen anything quite like Clamp It, there are numerous products in the same realm.
Perfecter has a line of hybrid straighteners and hair brushes that have sold quite well in recent years. The InStyler Max 2 also offers a brush/iron experience in a single unit.
On the very low end, you have something like this $15 ceramic straightening brush that can be used with a hair dryer.
Television Commercial
Your Clamp It Reviews
What are your thoughts about Clamp It? Drop a comment below and a star rating above to let us know what you think about it.