Clean Squeeze is a portable, handheld bidet. Does it actually work? Read our Clean Squeeze review.
Sponsored Links
About Clean Squeeze
Clean Squeeze is a portable bidet that allows you to stay fresh anytime. The official product website is getcleansqueeze.com, with a registration date of July 2016. Below is a screen shot of the official website taken in November 2016.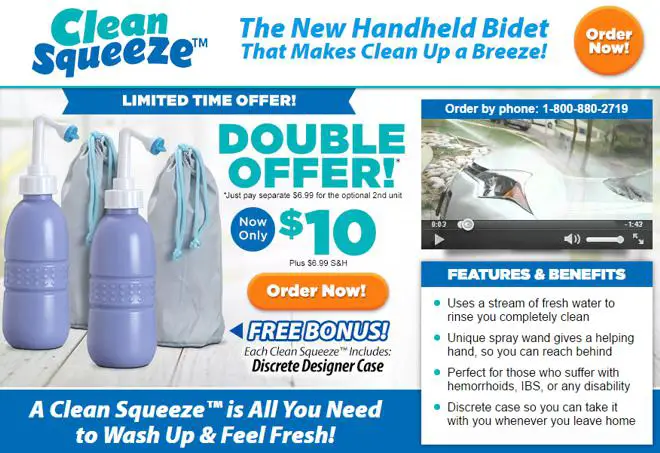 Claims & Features
Stream of fresh water keeps you clean
Spray wand
Ideal for those with IBS, hemorrhoids, and disabilities
Discrete
Cost
Clean Squeeze costs $10 plus $6.99 shipping. This includes a Clean Squeeze and carry case. You can double the offer for another $6.99. As of this writing, Clean Squeeze is not available in stores.
Sponsored Links
Clean Squeeze Review
Note: As of February 2017, the website for Clean Squeeze is offline and it appears that the product is no longer available. We'll update this space if anything changes regarding availability.
Clean Squeeze is a personal, portable, handheld bidet. You simply fill it with warm or cool water, position the angled nozzle, and squeeze. The use of a bidet is ideal for those suffering from hemorrhoids, IBS, constipation, diarrhea, and other conditions.
Clean Squeeze offers a rather simple design, which almost resembles a sports water bottle. It features a long angled nozzle on top of a sliding wand that can be adjusted. There is a designer case which allows you to discreetly carry Clean Squeeze with you.
One caveat is that you can't pre-fill it and put it in your purse or briefcase, as it is not leak-proof. You'll need to fill it immediately before using, which could be awkward in a public or company restroom.
Using a portable bidet may take some getting used to, especially in aiming the stream of water. During this learning process, you could find yourself spraying water around the bathroom stall. You might want to practice in your own bathroom before using it away from home.
The sliding wand (handle) should be long enough for most users to reach the right spot, and there is ample room between the nozzle and the hand that squeezes the bottle.
Overall, Clean Squeeze should leave most consumers satisfied. It may not be a perfect solution, but it is one of the best ways to get a bidet experience while on the go.
Alternatives
A search for bidet bottles online will yield a number of similar offerings. A popular option is the Blue Bidet, which looks similar to Clean Squeeze. It costs about $13 and has a 3.8 star rating among 400+ customer reviews.
Your Clean Squeeze Reviews
Have you used Clean Squeeze? Give us your thoughts by leaving a comment below and a star rating above.